CHAMPIONS LEAGUE | BARCELONA | LUIS ENRIQUE
"Before making changes we generally ask the players"
Barcelona boss plays down Messi incident during Eibar match and says the only game he is focused on is Ajax.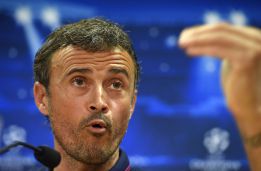 Barcelona manager Luis Enrique appeared before the press on Monday ahead of his side's Champions League fixture against Ajax.
Ajax: "We have to play a very complete match to ensure that Ajax are not allowed to show off their qualities, and they have a lot. They are a very well-structured side and they attack well. Last season they made life difficult. They beat Barcelona and they are without doubt a difficult team to play against. They have the positional ability to play 4-3-3 and they know how to hurt you on the counter. They have all the qualities to play well here."
Sergio Busquets: "As things stand, he will be available. We'll decide tomorrow. His absence against Eibar was a technical decision."
What's at stake: "It's an important game for us. Home matches are key and we need the fans behind us. The obsession is this game. The others don't exist."
The Clasico: "The only game we are thinking about is Ajax, to gain the points we need to get through."
Messi: "Before making changes we generally ask the players and we make the decision afterwards. What happened can be interpreted many ways, depending on who it serves. I will carry on doing what I have been doing."
Crunch week: ""The feeling around the place is good. We are winning all of our games, expect one in the league and one in the Champions League, and we have drawn conclusions from those. The crunch moments arrive from March onwards."
Luis Suárez: "There is a lot more behind what we see in matches. He is very intense and places a lot of importance on working every day. He will be a good reinforcement. He always displays a lot of joy at being at Barça and he is giving his all so that the fans in Camp Nou can enjoy watching him for many years. He is in good shape for the day when he will play alongside his teammates."