CHAMPIONS LEAGUE | LIVERPOOL-REAL MADRID
Rodgers: "Cristiano and Bale could run in the Olympics"
For Brendan Rodgers (1973, Carnlough), the elite has come at an early age. Liverpool opted for him and now they have returned to Europe. They welcome Real Madrid in the Champions League on Wednesday night.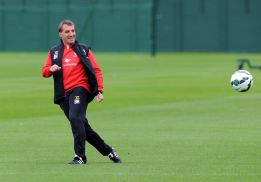 - What is left of the Brendan Rodgers of 2 years ago, what has changed in just over a couple of years?

Experience, the experiences of managing a worldwide football club, a better manager by working here at Liverpool and I look back over those two years since I arrived and hopefully my qualities have improved and I have become better.

- Are you ahead of schedule in terms of what you wanted to do at Liverpool since you first arrived? You almost won the league last season.

Yes, I was brought in here to restore Liverpool to what it had been, a club challenging for the title and obviously playing Champions League football. I signed a 3-year deal with the plan that in the third year we would be challenging for the title and that came a year early. The natural progress of the team has been halted in some way in the summer with Luis Suarez leaving and lots of new players coming in. It's an exciting time at Liverpool with lots of young players coming in but if we are going to get better, we are going to take the short term hit at the moment knowing that in the long term the club will be better for it.

- Does the long term plan make sense when you lose your main star after two years after having said that you have a three year plan. Doesn't that mean you have to start all over again?

Well I think in terms of very good co-ordination with the owners here, I think one of the biggest things in modern football is strategy. Of course the managers sometimes are not part of a team's strategy. My job here, for however long it may be is to leave the club in a better way than it was when I first came in and that's still my job. That and helping to develop players. The changes that are happening at the club, with things like the new stadium, are really exciting. We can bring about those sort of changes because of the Champions League and because of the money we bring into the club and the training ground is also changing and this all part of the strategy and for me. I'm not worried about me, I'm worried about Liverpool, I worry to work well for the club for however long that is.

- As part of the process of becoming a manager you went to Spain. What was the idea behind that? What did you do there?

I spent a lot of time in Spain and Holland. I was enthused by clubs that had the link and the association from the base through to the top, I also love the Spanish way of football, the domination and control of the ball. I spent a lot of time travelling, went to various clubs. I spent time in Seville looking at the club's development of young players and to Barcelona, Valencia and obviously to Madrid. Those were the main clubs that I went to look at, and then of course going to lots of games, I enjoy going out to Villareal, a beautiful little place, wonderful club that has done really great for a number of years now.

- You've got an amazing mixture of those people you have great admiration for including Alex Ferguson, who wrote to you at some point, Pep Guardiola who you have said you admire and Jose Mourinho who you actually worked with. How do you manage to sustain to have such strong feelings about three such managers that have such diverse approaches to the game?

Its funny but I have never met Pep, I was due to fly out to spend a few days with him when he was at Barcelona but my trip was cancelled because of the ash cloud. It meant my four day trip had to be moved. Eventually I didn't get the chance to meet him because he's a wonderful coach and I know, even without meeting or knowing him, that he is a wonderful man.

- What do you get from him?

His love and passion of football, his great principles and ideas and the confidence he gives to people. I've admired him from the outside looking in, at the courage he has showed to play the modern game.

- Your style as well. You seem to have taken a bit from here, a bit from there and developed your own ideas as well. But a lot of the style comes from there as well, doesn't it?

Yes, pretty much the Spanish influence, not just from Guardiola, but a fusion of the European giants. For me, Spain, Holland and the British mentality put together can be hard to beat. So my feeling was always to make a fusion between them, and with time to coach, the key of everything is to improve and making the player happy, its not really about me or what's on my CV of course. At the end of the day people will measure me for what I have done, but for me the journey is more important than the end.

- So how did it work with José?

It was a wonderful experience, I learned. José was a great planner and a good man to me as a young coach. He gave me responsibility, and the pressure of working with the big players when I was just 30 years of age, and I will always be grateful to him for giving me the opportunity to coach the reserve team and be near him, and the first team.

- You will always have some doubts and plenty of ups and downs in management. Have you ever consulted Jose in one of those situations?

No not really, I think when you are a manager you will speak to other managers but of course you always look to find different ways to find solutions. He's a friend of mine and its slightly different now because we are both so engrossed in our roles and our jobs that we don't get the chance to speak so much now.

- With Ferguson you got a letter from him when you were sacked at Reading.

Yes he wrote to me there. He's done that with a lot of managers that were either out of work or sacked. He was a symbol of I suppose the managers' union. I obviously highly respect Alex in what he has done in transforming Manchester United as a club, but there are many people and managers I have a big admiration for. I look at David Moyes and the incredible job he did at Everton although he didn't win a trophy. People might look at me in the next number of years and if I win some trophies they might say that's a success, but I believe my success was the 15 years before that, leading up to that, my success and my journey as a manager and working with young players. That's what I deem as my success.

- When you arrived to Liverpool, you spoke first of possession football, but the team plays the counter often. Is it correct to say you came with ideas and you develop your ideas on the players you have? Or was always the plan?

Yes, the frame of the philosophy was in place so people know how I work when they hire me, what they will get. The first six months was about finding the ways to get the principles over. We were in the Europa League and at the time it was difficult - I was brought in to implement my style of football which was creative, attacking, football, but also to win. But it takes a little time because it's a more expansive game based around movement and creativity, and lack of fear.
After five or six months then the players started to connect and we bought in two more players in Coutinho and Sturridge and allowed the team to grow even more. As a result the last 18 months we have been on a magic carpet ride of development but we still have a lot of growth to make. Like I say, the natural progression of the team, probably in the summer, has been challenged. Some teams can keep a squad and then add one or two players. We obviously lost a world class player but our challenge now is to progress -it will be slow but steady and that will always be the best way to get to where we want to.

- What did you do for Luis Suarez?

I enjoyed every minute of working with him, a great man. He had some issues around the field, but I cannot commend Luis highly enough. Everyday of his life he came in here, and prepared himself as you would expect a top player to, his focus, his love of football, the way he worked hard everyday of his life, how he rested at the right times and how he prepared his body. He was magical, a magical player and as I said, a really good guy.

- You don't see him failing at Barcelona?

No he will succeed, he's a big player and he will be a big success at Barcelona. I developed the team around him, when I came to here, and moved Andy Carroll. I built my team around Luis, and when I came I would hear people say about his finishing but in my two seasons he got 30 goals in the first, 31 in the second. So we helped improve his game and he also helped our team.

- Real Madrid, in the Champions' League. Have you found out their weaknesses already and what you can do?

They are as strong a team now as they have been for many years. They have everything, big experience, big players, speed, technique, they have a fantastic team and a great manager in Ancelotti, a good man who works with players and who is a good person, And they are the reigning champions as well and they will want to defend their title.

- And what a challenge to face a team that can counter attack or now play inside and pass the ball as well as they can?

Yes they have amazing talents all over the field, and as you say they have the technique to play in small spaces and when the space opens up there is no one better on the counter attack because in Ronaldo and Bale, they have two players that could be in the Olympic 100 metres final.

- Cristiano, is he a reference to you and to players in what he does?

He's an amazing player, his evolution over the last few years into becoming a goal scorer has been incredible, of course he is a player that you have to focus on but the team as a whole is incredible. You have Modric, Kroos, wonderful technicians who can play short, long. I'm also a big admirer of Sergio Ramos since his young days at Sevilla where he came through the system before making a move and then making to over 100 caps for Spain. It's an incredible achievement and he is fast and he is strong and he has personality. I like him a lot.

- Where will you be in five years' time?

I don't know, I hope one day to work in Spain, I've studied Spanish, but I need to improve. I'll probably improve when I work in the country one day. For most people, when they travel to a country their language becomes better. I speak to the Spanish players that we have in Spanish. I'm only 41 which is very young and there are lots of things I want to achieve here at Liverpool, its an incredible club and I hope to be managing here for another 20 odd years. One day hopefully it can take me to Spain and I can experience a wonderful country, culture and as I said, some wonderful football club.

- I have to ask you, is there another Spanish player coming in the next few months, December, January?

No.