LFP | MATCH FIXING SCANDAL
Gabi tells match-fixing probe: "I did what the club asked"
Atlético captain testified in court over alleged rigging of Levante-Zaragoza match in 2011.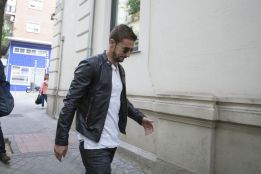 "I did what the club asked me to," Atlético Madrid captain Gabi told the Anticorruption prosecutor in Madrid on Thursday. Just 18 minutes later, the player told reporters that he was relaxed and had nothing further to add. Gabi's statement in court during the ongoing investigation into the alleged fixing of a match between Levante and Zaragoza on May 21, 2011 was later published on El Mundo's website, which also reported that Gabi told the prosecutor that he had made no personal gain from the result of the match, which ensured Zaragoza remained in Primera División, because he had already agreed to rejoin Atlético at the end of the season.
Agapito Iglesias, ex owner of Real Zaragoza also faced questioning on Thursday over the alleged match-fixing case. Agapito arrived at 9.14 at the Anti-Corruption and Criminality head office in Madrid. Half an hour before, at 8.46, the public prosecutor, Alejandro Luzón, arrived to prepare for the first day of questioning of those implicated in the case. Ex-Zaragoza player, Jorge López, who played for 26 minutes in the game in question, arrived at 9.46 and Braulio, who also played in the game (35 minutes) showed up at 9.54.
Thursday's declarations' from Zaragoza players are expected to be followed by those of implicated Levante players on Friday. Certain players have a special dispensation and are expected to testify on October 6th. This is the case of Ikechukwu Uche, who will give his version of events on Monday as he has to play tonight for Villarreal in the Europa League.
20 players in total have been summoned by the Anticorruption prosecutor who has detected serious indications of possible fraud surrounding the game. Also summonsed to declare are back-room staff from Zaragoza (but not Levante), directors from the time, and even the kit-man. All will be represented by their respective lawyers. If the public prosecutor detects possible criminal activity as has been insinuated, then a formal case will be filed. If this materialises, then the case would move to Valencia as the game was played in Levante's Ciutat de Valencia stadium. A judge from the Valencia region would then listen to the declarations of those implicated in the proceedings. In the case of being found guilty, the accused could face anything from six months to four years in prison and be confronted with anything from one to six years of professional inactivity.
There are four particular cases that the prosecutors' office intends to focus on: Leo Franco, Ponzio, Uche y Agapito Iglesias are the main suspects. The first two are currently playing in Argentina and have requested that they make their declaration in writing so as to avoid having to travel to Spain. Both players are immersed in the Torneo Inicial, goalkeeper Franco at San Lorenzo and midfielder Ponzio at River Plate. Only Diogo from the current Real Zaragoza squad will give evidence.
One of the sources of the investigation surrounds the movement of monies to the Zaragoza players' accounts. They allegedly received 120,000 euros as prize money from Iglesias, owner of Zaragoza at the time and who allegedly withdrew these funds to pay certain Levante players for letting his team win the game in question. The public prosecutor will first listen to declarations but it is anticipated that a formal lawsuit will ensue.