REAL MADRID DEBT
Real Madrid's debt grows 11.3% to 602 million euros
The debt level at the club has grown by 61 million over the 541 million euros of last year. The majority of the money owed is short-term debt. Income is only up 5%.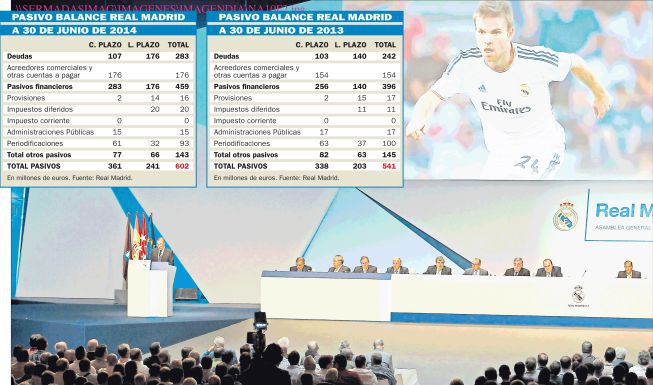 Real Madrid's gross debt is 602 million euros, according to the figures (for the financial year ended 30 June 2014) provided to members by the club, who have to approve the accounts tomorrow morning in the club's General Assembly. The total debt of 602 million is the total amount the club owes, both to the banks and creditors (suppliers, other clubs, tax and other public authorities...) Last year the equivalent figure was 541 million, meaning 2013-14 saw an increase of 11.3% in the money owed by the club.
Of the 602 million euros, 75 million is due to the banks and 241 million long-term debt. The remainder of 361 million is short-term debt (falling due within one year) and that's where one of the club's issues lies, because short-term creditors (those who owe money to the club falling due within one year) is just 267 million euros, 94 million less than the amount the club has to pay in the same period. The club though dealt with the same situation last year when they also had negative working capital, of 100 million.
Madrid have maintained their high levels of income, though the 604 million euros mentioned by Florentino the other day doesn't appear in the accounts, with the figure being 550 million. However it's noticeable that this amount is just 5% more than the previous season, despite earning 60 million euros for winning the Champions League. The season before, income only rose 1%, having been growing at around 12% a year in the previous decade. It appears that currently income growth is stagnant, and the debt's growing.
Last year the figure of 541 million euros of debt set off the alarm bells for various economists. Gay de Liébana said: "The debt is fairly high. To grow, Madrid may change to being a limited company". Plácido Rodríguez, head of the Observatory for Sport Economics said: "The financial situation of Madrid is very bad..." And in one year the debt's grown another 61 million to 602 million.