SPAIN | VICENTE DEL BOSQUE
Del Bosque: "Some of the criticism has been hurtful"
Spain manager addresses World Cup disappointment and calls for his resignation.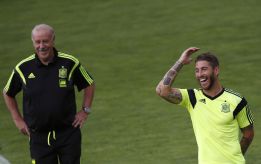 Vicente del Bosque granted an interview with El País on Wednesday, in which he talked about Spain's disastrous World Cup campaign, Iker Casillas and the regeneration of the national team.
World Cup: "We didn't operate well as a group. The most striking thing is that we trained well and the attitude of the players was magnificent, even in the four days leading up to the Australia match. The players still had a great attitude, which wasn't easy. We trained well and they were very involved. There weren't any problems. If you want to get into details, you could think that Diego Costa wasn't 100 percent... but I don't want to place the focus on anything in particular, that wouldn't be fair. I don't want to make excuses either but I think we didn't connect with him; we didn't get accustomed to him as we should have done. But he clearly didn't arrive fully fit. Diego is a great kid and very nice who fitted in perfectly.
Selection: "I don't regret the way I evaluated everyone, although maybe some like Xavi didn't understand it. We didn't leave Xavi out against Chile because he had a bad game against Holland, but instead because we thought it was better to clear the centre of midfield and put more players in front of the ball to make their pressing harder. I think to start with he didn't understand the decision, but later he did. I have seen hostility in some forums, but in the street people have been kind."
Mistakes: "I have gone over the origin, I've looked at the squad. And I don't think I strayed far from what the majority of people would have done. The starting line-up? It wasn't much different to one chosen by the readers of a newspaper the day before [the match], it was the same. So we didn't do anything particularly strange. It didn't go well, that's true. But as I've said before, in sport these things happen. And some people haven't been very sportsmanlike when they've been on the losing side. We were, otherwise we wouldn't have been able to get through those four days before Australia. That's an example of getting along together. The group is fantastic, beyond anything I can say."
Critics: "Some of the criticism has been hurtful. A colleague of yours termed the defeat as wretched. In sport there are no defeats with a wretched attitude. It was a disaster, we played badly, but we were not wretched. "An unbreathable climate," someone else wrote somewhere. What unbreathable climate? We have a wonderful group of players. Occasionally someone would have a long face but that's inevitable, everyone wants to play. But these are small things. People attach importance to stupid little things that didn't even warrant being considered even a joke, like Fàbregas' bib, which was nothing... I guess if you want to cause hurt you look for excuses but it's a lie, the group got along really well. The coexistence wasn't awful and neither was the performance wretched."
Decision to stay: "When the tournament ended I tried to be humble and prudent. Furthermore, everyone was calling for me to resign, I couldn't distance myself from that. Some people are always determined to bang the same drum. Whatever happens, if we see that the team doesn't jell, and that we are being detrimental to them, we won't be bullet-proof. I don't see it as something worthy of drama. It's just about assessing ability, industry and enthusiasm. I don't know if I have ability, but I have no doubts about my industry and enthusiasm.
Casillas: "Iker is an ambiguous situation, I'm sure he's not having a good time of it. But I don't want to get into the day-to-day of the clubs. The other day I was in Cardiff, at European Supercup, and I shook hands with the president of Real Madrid and congratulated him. Then some media accused me of being rude for ignoring him. Do you think I said hello? Of course I did, I offered my hand and congratulated him. It all made out that I'm a swine. Why? To cause damage."