GERMANY
Khedira facing up to eight weeks on the sidelines
The Real Madrid midfielder sustained a tear to his left thigh and faces a lengthy spell on the sidelines.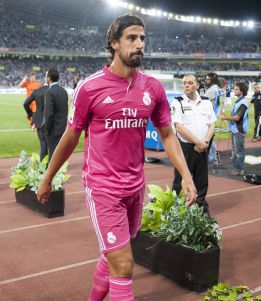 Real Madrid midfielder Sami Khedira suffered an injury to his left thigh muscle whilst on international duty with Germany. The player was forced to retire from Tuesday's training session and underwent tests this afternoon. The Germany Football Federation (DFB) issued a press release which confirmed a muscle tear, the recovery time from such an injury is usually between four to six weeks although German media believe Khedira could be out for as long as two months.
Real Madrid also released a statement confirming Khedira's injury, the club announcement contradicts that of the German Federation in that it stated that the injury was sustained in Tuesday's training session while in Germany, medical staff are claiming that Khedira arrived for international duty already carrying the injury which made it impossible for him to train. The DFB said that a magnetic scan detected the torn muscle and effectively ruled Khedira out of the training session.
Khedira joins Jérôme Boateng and Mats Hummels on Germany's casualty list. Joachim Löw's team meet Argentina in a friendly then Scotland in their first EURO 2016 qualifier on 7 September.