REAL MADRID
Chicharito: "I needed a move like this; here, they demand 100%"
"No one can deny that it's a dream to play at a club like Madrid," the Mexican said during his first press conference as a Real Madrid player.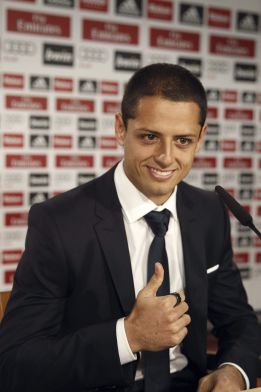 "It's a dream," was how Chicharito Hernández described his loan move to Real Madrid, where he was officially unveiled today.
Real Madrid: "No one can deny that it's a dream to play at a club like Madrid; I've come here to make my mark".
Winning a place in the side: "I'll be giving the best I have to give both on and off the pitch to make this club even more successful".
Quality bench player: "I have accepted to become a Real Madrid player".
Latin American contingent: "All of us want to succeed at what we are passionate about – James, Keylor and myself are no different in that aspect. For us, there are no limits. Joining Real Madrid is not just a big deal for someone from America; it's a huge thing all over the world".
Hugo Sánchez: "He did exceptionally well during his time here but I am a different person and I just promise to give my best. What you will see is a player who is completely dedicated and committed".
Have you received any advice from him? "I've haven't spoken to Hugo, I haven't had the chance to meet him yet but everyone knows what he means to this club".
Derby relish: "I have never thought that I will start off by scoring in my first game; it's an opportunity for me to do what I enjoy doing most – playing football".
Ancelotti: "I haven't had much of a chance to speak to him at length but it was a pleasure to chat briefly with him today".
Promise of goals: "I never make those kinds of promises; goals come as a consequence of how the team plays. What does matter is that Madrid wins, not who scores the goals. What is in my hands to make sure I have the right attitude and arrive here fully motivated. I know what wearing this shirt means – not every player gets the chance to play for Real Madrid".
Golden opportunity: "Perfection exists but you have to search for it. I have come here with all of the excitement in the world. I needed a move like this; they demand 100 per cent here at Real Madrid".
Anoeta fiasco: "Nobody likes losing. Since the World Cup ended players have had little time to rest. Here in Europe, the league campaigns are like completing a marathon, rather than a 50 metre sprint".
Premier League: "I adapted to the game even though I am neither tall, nor strong. I hope to adapt just as well here too".