ATLÉTICO MADRID
Atlético to appeal Simeone's eight-match ban
Club hopes to have sanction reduced by one match in order to allow manager to occupy bench for upcoming Liga fixtures.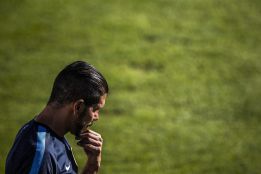 Atlético Madrid are to plead their case at the LFP's appeals committee in an attempt to reduce the ban handed down to manager Diego Simeone by the disciplinary committee after his sending off during the Spanish Supercopa second leg match against Real Madrid.
Simeone received the lengthy ban in separate swaths: four matches for slapping the back of the fourth official's neck; two matches for protesting; and one match each for applauding the referee's initial decision and remaining in the stands giving instructions during the remainder of the match. Half of Simeone's ban was ordered to be served in league matches, with the remainder pending further participation in the Supercopa.
The objective of Atlético's appeal is to have Simeone's ban reduced by one match on the basis that he apologized for his behaviour immediately after the game. If the appeal is looked upon favourably, the four-match suspension for slapping the fourth official's neck will be reduced to three, and therefore downgraded from a serious infraction. In that case, the Atlético manager would be required to serve a seven-game ban entirely in the Spanish Supercopa, leaving him free to occupy the touchline for Liga matches against Eibar, Real Madrid, Celta and Almería.
If Atlético's appeal to the committee fails, the club may take the matter to the Sports Tribunal (Tribunal Administrativo del Deporte).