REAL MADRID 2-0 CÓRDOBA
Lacklustre Madrid get the job done against Córdoba
Benzema put Madrid in front with a header and Ronaldo scored to make sure after several scares from a decent Córdoba. Khedira was whistled when he came on.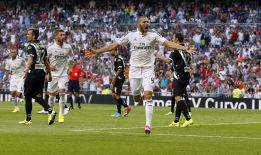 Madrid are still as thick and heavy as cement, confused and frayed around the edges. Córdoba made it their job to remind the Madrid fans of it, fans who suffered a heart attack when Xisco had his equaliser chalked off, correctly, for off-side in the 70th minute. The warning had been given though and Ancelotti began to panic: he put Khedira on fro Benzema and set up a protective 4-4-2 that summed up the insecurity you could taste in the air. It turned out that the plan worked out fairly well for the Italian, as Cristiano found his spot and scored two – the first correctly ruled out for offside, while the second, a long range unstoppable blunderbuss, settled things.
The win calmed the tension in the stands and put an end to the understandable murmurings of the fans, that had increased throughout the second half, when Córdoba had found themselves comfortable on the ball. Madrid had started with decent intentions, based around Kroos and a pro-active James, but they dissolved in a confused tumult further up the pitch, with few ideas and nothing on the wings. Where was Di María? This game was crying out for a player like him who can break through lines, but around this time the Argentine was landing in Manchester. The alternative is Isco, and it's true that he wasn't bad when he came on, but he didn't do it all right, either.
Madrid looked promising with the double pivot they started with and James looking to create, putting balls into Juan Carlos' box, who by the way is a fine keeper. In one break Crespo's light push on Ronaldo should have resulted in a penalty, but referee Jesús Gil gave Córdoba a hand, possibly as a prize for their recent promotion.
There was no need to help out the visitors either, because they were defending marvellously, both tactically and when they had the ball. So much so that they bogged Madrid down, diluting their ferocity expertly and trusting in themselves in a setting that wasn't too much for them. They lasted half an hour like that, until Benzema headed Kroos millimetre-perfect corner into the net. A signal that Real Madrid had the game resolved? No, quite the contrary.
Confirming the feeling that something was out of order with Madrid, several players lost their way. Not just Arbeloa, but also Marcelo, Modric and Bale himself. Córdoba found themselves with an authentic opportunity, with lots of open space, chances to equalise and few worries at the back.
Having overcome the scare of Xisco's disallowed goal, which came at the height of Madrid's confusion, Ancelotti decided to sort things out, throwing on everything he had. By sheer force they put an end to the Córdoba revolution and then Cristiano, who can't be stopped, appeared, though something inside him still hurts. Cristiano always appears to bring order to the situation.