LIGA BBVA | BARCELONA 3 - ELCHE 0
"If he wanted to defend, he'd be the world's best at that too"
Luis Enrique said afterwards that he was "more than delighted" with his team's display in his first official game as coach.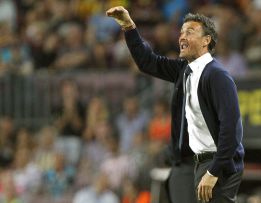 Barcelona coach Luis Enrique spoke to the media after his team saw off Elche at Camp Nou in the Blaugranas' opening engagement of the league and his first official game in charge.
Overview of the game: "The sending off complicated the match and the team had to drop a little deeper. With the side we've got and Messi in such a wonderful state of form it all worked out".
Messi's performance: "What can I say? I have always maintained, and it was in evidenve tonight, that Messi is the best in the world in every aspect. If he wanted to be a defender, he'd be the best in the world at that too. He'll always be the best in the world as long as he wants to be. He's waving his magic wand and will continue to do so for as long as he wants".
Xavi's role in the new line-up: "I don't know what the future will bring. I'm sure that like all of the others, he will have a key part to play. I'm delighted with Xavi's conduct, he wasn't in the perfect conditions to have played today".
Defence: "I think attacking is what we do best. We have players up front who can resolve a game and we have maintained the same ideas in attack. Leo, Munir and Pedro had to make more sacrifices tonight but they did well. I think the fans will have gone home happy".
Start of a new era for Barça? "I don't know what you mean by that. All tonight means is that we have three points and we will be going out to get another three points next weekend. It's been a nice debut. I think we have reinforced with quality and quantity and we have other players who weren't involved tonight who can also help us".
More minutes for Munir: "It's difficult for him to continue getting minutes. We still have to keep an eye on his progression as a player, and he still has time to evolve like any player his age does".