REAL MADRID
Ancelotti: "Di María transfer is almost done"
Real manager says Argentina midfielder has bid farewell ahead of move to Old Trafford, adding that Sami Khedira "is staying" at the Bernabéu.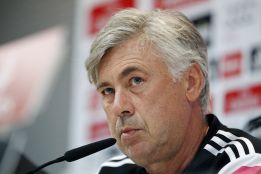 Carlo Ancelotti spoke to reporters on Sunday ahead of Real Madrid's opening match against Córdoba and all but confirmed the departure of Argentina winger Ángel di María to Manchester United.
Di María: "He didn't train today. It's not official yet but the transfer is almost done. I would like to thank him for everything he has done for this club. Personally I have had a very good relationship with Di María; he has done a fantastic job at this club. It was his decision. The club did everything possible to keep him. Good luck to him."
Ronaldo: "He will be available tomorrow. He is ready to play. He needed to do some individual work and he has got over his injury problems. Also, he has the whole week to himself next week, so he can take advantage of that to train without interruptions."
La Liga: "We are very excited about this season. We were close last year. We will improve this season. It's a difficult, complicated league with big teams, but we are looking forward to it."
Casillas or Navas: "I'm not going to say who is going to play in goal."
Squad this season: "The new signings have different characteristics. They all bring enthusiasm and a lot of quality. The midfield is covered; there will be no more arrivals. Isco and James can play there as well as Illarra, Kroos, Alonso and Khedira, who is staying."
Lack of goals: "The team is in good shape, with a solid defence and speed in attack. We won't have problems scoring goals; they will come."
Khedira: "He is staying and he's happy. He is very important to the team."