ATLÉTICO | SIMEONE
"When someone makes a mistake it's right they pay for it"
Atlético manager Diego Simeone ready to accept ban if punished for altercation with fourth official during Supercopa second leg.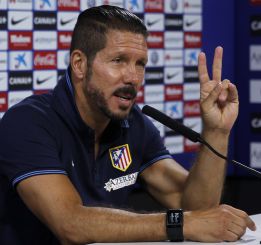 Diego Simeone faced the press to answer questions about a possible ban for slapping the fourth official on the back of the neck during the Supercopa second leg in the Calderón, Luka Modric's failure to reach the dressing room after his sending off and Cristiano Ronaldo's set-to with Diego Godín.
Ban: "The matter is closed. It doesn't do any good to keep talking about the same thing. The people who make the decisions will have to see what a fair punishment is. When someone makes a mistake it's right they pay for it, we are waiting to see what the price is. Germán Burgos has the ability [to stand in] and he has my trust; we see football in the same way."
Modric: "I saw him in the tunnel after he had been sent off. There was a video of it on the television and you all saw it as well."
Ronaldo and Godín: "I didn't see it. On the television you can't see much. These are arguments that happen on the pitch. It's your job to give your opinions about what happened. We always say that what happens on the pitch stays on the pitch."
Dismissals last season: "I counted them. I got five yellow cards; two against Madrid, two against Barcelona and one against Málaga. Also, they sent me off against Madrid [in the Copa del Rey] and again in the Champions League against Madrid. Something strange is going on... it's always against them."
Signings: "I always say around this time that I am open to whatever happens in football; players might arrive or we will stick with what we've got."
Favourites for the league: "Silence. Just silence."
Number 1: "Miguel [Ángel Moyá] will play."
Alderweiden: "He is an Atlético player today. He has options to leave but we will count on him as long as he is here. We are very grateful for the work he has put in for us and happy with his attitude. He is one of the group."