REAL MADRID | BENZEMA
Benzema: four months without a goal
Bernabéu hierarchy considering another striker to provide competition for France international, who managed one off-target shot in two Supercopa legs.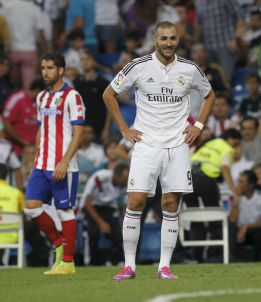 Karim Benzema was one of the Real Madrid players who came under fire alter the Spanish Supercopa loss to cross-city rivals Atlético, precisely because of his lack of firepower. The France striker failed to create a single clear-cut chance during 180 minutes of football and he mustered just a single shot, which failed to hit the target.
In spite of this, Carlo Ancelotti again rose to Benzema's defence on Friday and appeared to close the door on the arrival of a reinforcement in the striker's role at the club. "I am very happy with Benzema and we don't need another option," the Italian stated.
However, in the corridors of power at the Bernabéu the search for another forward to provide some competition for Benzema is being considered; Benzema's position is the only one in the squad occupied by a single player. There are no alternatives as things stand.
Benzema's statistics justify the club's desire to sign another striker before the transfer market draws to a close; the number 9 has scored just one goal in Real's last 15 matches, on April 26.
The lack of back-up for Benzema would oblige Ancelotti to alter his system in the case the striker succumbs to injury. In that instance, the Italian tactician could deploy a false nine -- a role James Rodríguez was asked to perform in pre-season – or switch his formation to a 4-4-2, as he did last season when the France international was unavailable.