SPANISH SUPERCOPA
Ancelotti on Di María: "It was a technical decision"
Real manager plays down absence of Argentinean from match day squad and says Sami Khedira had permission to go to Germany.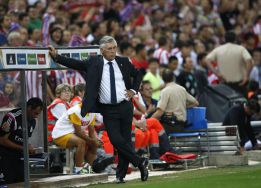 What happened in the second half? "I think we lost control of the play, and were playing too many long balls. We needed more possession, which we did very well in the first half. In the second half it was more difficult and we allowed them to defend how they wanted and that's why I made the substitutions."
Analysis: "The [2013-14] season ends today. I would like to thank the players and the club because we have achieved something important. We have won three titles."
Cristiano Ronaldo: "He wasn't able to play 90 minutes, I decided to put him on in the second half when the tempo of the game dropped."
Ángel Di María's absence: "It was a technical decision. We didn't need Di María today."
James Rodríguez: "In the first half he did very well, he was our most dangerous player; he looked for good positions between the lines. In the second half he played inside a lot more and he was tired and that's why I brought Isco on, but he was fantastic in the first half."
Khedira: "He had permission to go [to Germany] and I wasn't interested in where he was going."
Season's predictions: "It's shaping up to be interesting, we have a team of very good quality and we will try to do the same as we did last year. We have a very competitive squad for the league and the Champions League. It is going to be a positive season, like the one that has just ended today."
Six titles: "At no point did any one of us talk about winning six titles. We played and we tried to win but we ended last season with three titles so we'll see what happens."
Do Madrid need another striker? "I don't think so. I am happy with Benzema and although there will be games when he doesn't score he offers other things to help the team."