BARCELONA
"I don't feel valued by the club or the fans," says Alves
The Brazilian full-back steered clear of commenting on the punishment handed out to Barça and Luis Suárez in today's press conference.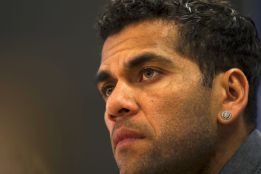 Dani Alves, one of the players whose future looked uncertain at FC Barcelona during the summer, seems to have won over the new coach ("He's a very good player and he can really help us out a lot"). With transfer deadline day looming, the club has still not received any offers for the defender although the arrivals of Mathieu and Vermaelen has increased the pressure on Alves, who featured in the starting XI in Monday's Trofeo Gamper. Alves faced the media after training at the Ciutat Esportiva on Thursday.
How are you confronting the new season?
As I always do. There is always a great deal of talk about me here and I take it all in my stride. I am a person who is motivated by criticism – it's what makes me improve as a player. Praise tends to make you too comfortable; being constantly judged keeps you on your toes. What you should never do is allow yourself to be influenced by it, you have to use it in positive way and that's what I must do. At this club, I have earned the right for at least a little respect – 300 appearances and 12 trophies. I have worked hard so that people respect me here. It's a pleasure to work with someone like Luis Enrique; he demands a lot from us and that is what inspires me. We have to work well and be demanding with ourselves. We have great challenges to look forward to this season.
Are you going to complete your contract?
I live year to year and when I was questioned about my contract on my return to Barcelona, I made it clear that I first needed to discuss it with Luis Enrique. I needed to feel assured that he counts on me because we'll be working with other during the whole of the new season. Normally, the club isn't constantly involved with those who make the decisions – the coach, the technical staff... I just wanted to hear what his intentions were and know exactly what was wanted from me. He told me that he counts on me and that is all I needed to hear and he has my full cooperation. It works both ways. I just aim to continue doing what I have been doing up until now. We have had two poor seasons but you cannot shift all of the blame onto one person. No single person is to blame. We are a team and collectively responsible for all of the good things and that bad. I will accept my own responsibility and that drives me to return to be the player everyone knows. When expectations of me are at the lowest is when I respond. I have a big personality and that's why I have decided to stay here. This is my seventh season at Barça but one day I will have to leave – like Víctor, Puyol or like Xavi, who almost left. My time will come too but when it does, I hope that I can leave as a great professional, a great player – one who has made history at this club. Sometimes it's as though everything that goes wrong is my fault. Now we have a new challenge ahead of us, and that motivates me. My contract expires in 2016 so I have this season and then the next and if there are no changes then that's what's left to run on my contract. My desire is the same as ever, whatever nonsense is said about me. I want to win and Barça to be the best although doing that gets harder every year. We're ready to confront all of the challenges that lie ahead.
When you say you don't feel valued, by whom?
A little bit from all sides – the club and the fans. But I am the one who is responsible for all of that because when you set your standards very high, people get used to it and when you suffer a drop in form, people demand more from you. It's normal. I just think that they should look at it in a different way. I haven't felt that I have had support when I have had to defend myself in the face of everything that comes out in the press. Publishers need to sell newspapers and there will always be speculation in the press but I have read articles about the club looking for a substitute for me. I have always been clear that my plan is to stay here because I am still under contract. When the time comes, I hope I can leave knowing that I have lived up to everything that was asked of me and not that I haven't got anything to give because I have a lot to give this team".