REAL MADRID
"Di María asked to leave but there's no problem if he stays"
The Italian coach said today that the Argentinean will have his full support if he decides to stay on.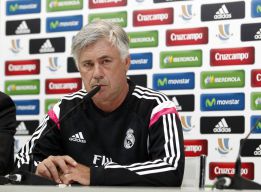 Carlo Ancelotti faced reporters this afternoon on the eve of Friday's Spanish Supercup final.
The return: "We're used to playing against Atlético and I don't think that they will change their style in tomorrow's game. They have a slight advantage from the first leg but I am expecting them to play a similar game to the one they played at the Bernabéu".
Di María: "Di María put in a transfer request in the summer and turned down an offer to renew his contract. The club has been trying to find a solution for him. If he is still here when the transfer window closes, he will continue to work with us like he did last season, without any problem".
The goalkeeper's slot: "I'm not going to say who will play tomorrow".
Midfield: "We'll have three in midfield like we did in the first leg; maybe their position will change slightly because I'll be fielding different players with different characteristics".
Cristiano: "He's available and is able to play from the start – if he wasn't, he wouldn't be in the list".
Khedira: "He has turned down an offer to agree new terms and he has one year left to run on his existing contract".
James: "He's working well... and adapting to our style of play. He did well in both of the games he has played. We have fielded him in a slightly deeper position because the team needs someone there but he can play in any position".
Casillas to start? "Maybe, or maybe not".
Kroos: "I'm not sure where he will play. We're lucky to have players who can move into other positions and he can slot into any of the three midfield roles because he has the quality to adapt".
Simeone's comments about Di María: "It didn't bother me at all. Everyone has the right to say what they think and he gave his opinion".