ATLÉTICO | GODÍN
Bayern boss Reschke heading to Madrid in search of Godín
The German club's sporting director, Michael Reschke, will be in Madrid later today to meet with Atleti executives. Simeone is utterly opposed to selling the defender.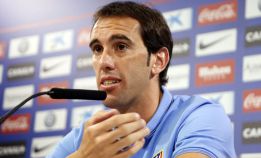 Bayern Munich's sporting director, Michael Reschke, will be travelling to Madrid later today to meet Atleti executives, with the intention of signing Diego Godín. With Javi Martínez injured the German club are looking for a top central defender to reinforce their back line and Guardiola's first choice is the Uruguayan. The player's buyout clause is 36 million euros and he's just improved his contract with the Madrid club.
Though Atlético expected to let one of their central defenders go, it seems unlikely the club will let Godín go easily. He was the hero of last year's league title, with his goal in Barcelona that clinched the championship and Simeone considers he is 'untouchable'. During the World Cup El Cholo said he would "never" let Godín leave.
In principle Atleti are keen to keep their central defensive pair of Miranda-Godín, as they have been fundamental to their success and are considered to be the basis of a solid defence, despite the departures of Courtois and Filipe. In the seven pre-season games, Simeone's side have only conceded one goal. One of either Gímenez and Alderweireld is expected to leave, unless Bayern's sudden appearance upsets the plans.