SPANISH SUPERCOPA | SIMEONE
Simeone: "With 95 million we buy eight players, they buy two"
The Atleti manager spoke ahead of tomorrow's Supercopa first leg between his side and city rivals Real.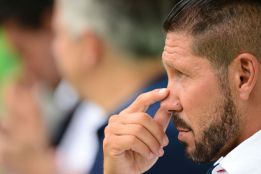 Diego Simeone gave a press conference ahead of the first leg of the Supercopa between Atlético and Real, to be played tomorrow at 11pm in the Santiago Bernabéu.
What's the reality of Atleti's situation?
The objective, if we're talking about the Supercopa, is to try, through our style of play, to take the game to where we want it and win it. As to the League, over and above the new signings and the reinforcements that have been made, normally there would be four different players from last year's squad and that's a big change. Time is short. We need to look at Sevilla, Valencia and Athletic, and battle them for a Champions League spot.
How do you see your team compared to Madrid?
We've brought in seven or eight players for 95 million, they've spent 95 million on two. There is a little difference. But this club has always had this creativity. We're still looking. No doubt there will still be someone who comes and someone who goes. We're forming the group, but the group isn't made up of the 11 who play, but with the 18 or 20 who are available.
Are you still sore from last year's Supercopa?
The competition is more about economics than reality. Playing two games at the start of the league doesn't make sense, but the television pays. A final is a final, not two finals. Last year we were close. Now we need to make a major effort.
No Diego Costa
The structure of the team won't change. The aims and the aggressiveness will be the same because it's the basis of the side. It gives us the stability to maintain the same style of play. The way Mandzukic plays isn't the same and Griezmann could be similar. Jiménez is in between. He's the most similar without being the same as Costa, but he can also play as a second striker. Whoever makes us feel the most comfortable will be who plays.
Madrid
They are a better side than last year, without a doubt.
Who will play in goals?
Tomorrow it'll be Moya. Oblack came in very recently. I'm not tied to anybody, just those who fit best what the team needs.