BARCELONA | GUARDIOLA
Forthcoming book on Pep sees coach confess: "I hate tiki-taka"
In Herr Pep, by Martí Perarnau, the ex-Barça boss denies he asked to rebuild the Blaugrana squad and admits the 4-0 defeat to Madrid is his "biggest cock-up as a coach".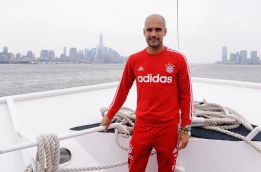 The countdown is now underway for the release of what promises to be the year's bestseller on the football literature stands. Herr Pep, written by Martí Perarnau and published by Córner, will hit the bookshops in Catalan and Spanish on 4 September, with translations into German and English planned.
Thanks to Isaac Lluch, Germany correspondent for the Catalan daily Ara, we have a sneak preview of the thoughts offered by Guardiola in a book fully authorised by the current Bayern Munich coach. "Write everything you see and criticise everything you want to in the book, but during the season don't writing anything that you see behind closed doors," Lluch describes Guardiola telling Perarnau on agreeing to let the excellent journalist spend 200 days a year with him, and be in places and conversations that many would give their right arm for. And over a period of many months, Perarnau hasn't breathed a word; I can vouch for that.
And it's likewise down to Lluch, a usual suspect of the best reporting there is on Bayern, that we learned in Saturday's edition of Ara that Guardiola says: "I hate tiki-taka". For more information on that, we'll have to wait for Perarnau's book, but for the moment we'll satisfy ourselves with the fact that, in Pep's view, "Possession of the ball is only a tool with which to organise yourself and cause disorganisation in your opponent. If there isn't a sequence of 15 previous passes, a good transition between attack and defence is impossible. Impossible."
Guardiola also openly explains for the first time the motives that led him to leave Barça, bringing an end to all manner of conspiracy theories. "It isn't true that I left because [then president Sandro] Rosell didn't support me in rebuilding the squad. I was at my limit of exhaustion and I wasn't sure at all about what options I could offer the team. I didn't ask to rebuild the squad, because I was the one who had decided to leave."
On the subject of a possible return to the club, Guardiola makes the most of Perarnau's intelligence to offer an insight into Barcelona via a memorable phrase: "The way the club is run, there are only two options: either you're the power or you aren't the power. And, against my wishes, I have been forced to pick sides." And Lluch's appetising review ends with a confession: "The 4-0 defeat to Real Madrid in the Champions League is my biggest cock-up as a coach."