REAL MADRID | DIEGO LÓPEZ
Diego López close to signing for Monaco for three years
The keeper will earn five million euros a year. He doesn't want to negotiate with Madrid and will demand the 12 million euro severance deal he's due.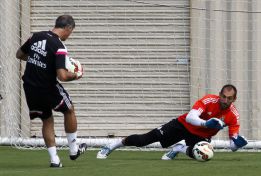 Diego López has had little time to choose and few options on the table. Monaco and Napoli were the clubs that were most interested this summer, but the player wanted to stay at Madrid and fight for his place. An utterly fair decision on his part. But now the club have told him directly that he isn't in their plans, his aim is to sign for a club that will meet his requirements.
Monaco are still keen and Diego López has been looking at their offer carefully with his agent Manuel García Quilón and his family, and in principle they like it. He's close to signing with them, for three years (he's 32), receiving five million euros a year.
Madrid were keen for the player to be used in bringing James to the Bernabéu, but the keeper refused point blank. This then will be an independent negotiation between club and player, and nothing to do with James or Falcao.
His exit from Madrid still needs to be completed. The club are not keen to pay him the severance package he's due for them breaking his contract, but the player and his agent are refusing to negotiate. They are demanding the compensation for the three years remaining on his contract. He earns 2.1 million a year, which means the entire package including taxes will be around 12 million.
Diego López landed this morning In Madrid with the rest of the squad who were on the US tour. The first full squad training, including Kroos, Khedira, Di María (if these latter two are still in the squad), Marcelo and Keylor Navas, who is expected to land in Madrid on Monday morning. The aim is for Diego López not to train on Tuesday, having already left the club. He has 48 hours.