REAL MADRID | GOALKEEPERS
Real Madrid decide Diego López has to go
The keeper wants his pay-off and will decide where to go after the end of the US tour. Casillas is likely to start in the UEFA Super Cup.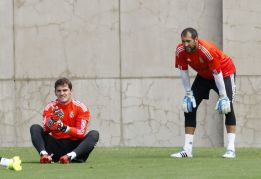 Three keepers. One problem. One has to leave. Madrid have made up their minds and are pushing Diego López out of the door, to make room for Keylor Navas. López, keeper for the league matches last season, is aware the club no longer have him in their plans and wants to pick up his pay-off for an early termination of his contract (he still has three years left at Real Madrid, and would expect to receive around 12 million euros), before looking for a club when he returns from the US (Monaco and Napoli are interested).
With everything indicating that Ancelotti would have a relaxed, happy pre-season, after winning the Décima, he suddenly found himself once again facing a heated debate over the goalkeeper's position, after the club decided to sign Keylor Navas, a stand-out performer for Levante last season and one of this summer's World Cup stars. "For me, the goalkeeping position isn't a problem", Ancelotti has said over the past few days.
The Italian coach doesn't lie in his press conferences, and has stoically avoided the subject of Keylor Navas. In his training camp in Ann Arbor he has Casillas and Diego López, with 11 days to go before the start of the season. But the club has taken the decision to do without Diego López. For his part the keeper was keen to continue with Madrid, but if he isn't wanted then he doesn't want to stay.