REAL MADRID | JAMES
James: "Falcao is a winner, hopefully he comes to Madrid"
AS and 'Radio Caracol' interviewed Real's new number '10'. The Colombian recommends the signing of 'El Tigre', his friend and countryman: "Madrid want his type of mentality"
Diego Rueda and Steven Arce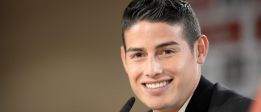 How do you feel a couple of days before joining training with Real Madrid?
Happy, because being there is going to be realising a dream. Hopefully everything turns out well, I'm so excited and keen to get going. I want to win titles at this great club.
Let's start at the beginning. As a lad did you want to be the best with the ball?
From as early as I can remember I always wanted to be number one, give passes, score goals... But now I'm at Madrid I want to be just another one of the team, though there are lots of stars. I just want to help.
There is footage of you as a boy scoring goals direct from a corner...
Yes, I did that a couple of times. Not now though, it's much harder [laughs]
When did you start to hear about Madrid?
When Zidane, Beckham, Ronaldo and the Galácticos were there. I've followed Madrid since I was a boy. I loved Zidane, watching him made me feel different.
Who did you want to be like?
I never wanted to be like anyone. I admired footballers, but I didn't want to be like them. I liked Zidane, Roberto Carlos, Ronaldo... they were different from the rest. I admire a lot of players now too.
Eduardo Lara, who coaches the Colombian Under 17 and Under 20 sides, says he had to give you a row, because you'd stay after training to keep practicing, even though the next day there was a game...
[Laughs] It's true. I've always trained a lot. If you ask [my coaches] now, they'll tell you the same as Eduardo. When training finishes, I stay behind to train well. If I don't, I don't feel good. When you play, that makes the difference. Since I was 11 I've done it and I'm not going to change now.
You've improved how you hit the ball...
It's from working hard for a long time. Both physically and mentally.
Who was the first to call you and tell you Madrid intended to sign you this summer?
As soon as I knew that Madrid wanted me I did everything I could to go. It had been talked about for a while, but nothing was certain. A month ago it was official that they wanted me. It's a big club, and that means being at the highest level. I think I'm ready, but I'm arriving humbly.
Is it true that Madrid have followed you since you were at Porto?
Clearly. Madrid always want young players who stand out. When a player does shine, they go for them. They were following me, and after I had a good World Cup, that's when they bought me. They know when to buy players. During the World Cup they had already talked about signing me, but I was relaxed. I wanted to win it and do well for Colombia. It didn't put pressure on me, quite the opposite. I was more motivated to win.
When you were in Argentina, as a 16 year old, you thought about quitting football. You also had a tough time at Monaco...
At Monaco I didn't play much for two and a half months, with the coach thinking my game was missing things... Ranieri has a lot of experience and if he thought it I had to respect it. When I played, things started to go well for me. I learnt a lot in France, because the football is very physical and tactical.
You've been coached by Falcioni, Ranieri, Villas-Boas. Which coach have you learnt most from?
They are all great coaches and I've taken different things from each one. I was only 15 with the first of them, that was where I learnt the most. With André too things were great.
Where do you think you'll play at Madrid?
Where the coach wants? I can play right wing, left, as a tresquartista... I'll be watching to win a place among all the superstars around me.
Do you think you'll start?
You have to wait at first. I'll have to win my place. There are players who have been there for years and I need to respect that.
What do you think of the praise from your new teammates on the social networks?
I'm proud. That so many stars see the work I've done makes me very pleased. To be amongst so many stars is wonderful.
If you play as Madrid in a videogame, what position would you play?
Definitely in the starting XI [laughs]
Have you talked to Ancelotti?
Not yet. No doubt I will when I get there.
And your teammates?
With Cristiano. I've been in touch with him for a while. He's a great guy and brilliant player. The last time I spoke to him was before Madrid played Bayern. We spoke for a while. He wished me luck at the World Cup.
How was your presentation and the signing of the contract, with 45,000 fans in the Bernabéu?
It was a special day. You don't get a day like that very often. Coming out in a unique stadium, with so many people... I'll never forget it. I want to make history at Madrid.
Did you have a chance to do the Bernabéu Tour before you signed for Real?
No, I always wanted to, but I never got the chance. Now I've been able to as a player. I'm coming to a historic club, with pressure to win... and I like winning.
Define Real Madrid.
The best club in the world.
Barça?
A great club, I admire a lot of their players. Obviously I respect them.
Before saying it during your presentation for Madrid, how many times had you said "Hala Madrid"?
In my house, when I watched the games on the television, I'd say "Hala Madrid!" But obviously, saying it in front of 45,000 people... I was very nervous, but it came out well.
Do you know what wearing the number 10 means at Madrid?
It's something huge. This is a club where there is a lot of pressure, I hope I can wear the number responsibly.
How do you dream your first goal will be?
As God wishes, but winning of course.
Falcao is being talked about at the moment, do you see him at Madrid?
I'm sure he could play here. But it's not up to me to decide if he comes or not. That's a decision for the president. He has the quality and the winning attitude to be here.
Would it be good for Colombia, a country that needs good news to raise the spirits, to see two idols like James and Falcao at Real Madrid?
I've been playing alongside him for four years. We were only apart when he went to Atleti. He's got a winning attitude, and that's what Madrid wants. Hopefully he can come.
When do you think you'll be ready to make your debut?
I'm travelling tomorrow and on Saturday I'll be training with the squad. I'll be ready after a good pre-season. Nine, 10, 12 days... when Ancelotti says, I will play.
You've arrived from a trip to Punta Cana and before that you were with your family in Colombia. How has this been for your family?
They are a very important part of all this, and now I'm going to be away for a few day, well I want to take the chance to spend as much time with them as possible. At the moment I've got lots of friends and people around me, but when things are difficult it's the family who are always there.
What has your mother Pilar meant to your career?
A lot. She's supported me since I started playing.
And your wife, Daniela?
Since I met her seven years ago she's always been by my side. When I play badly, she talks to me. My daughter is also so good for me.
Which of the two gives you a harder time when things don't go well out on the pitch?
Daniela, because she knows when I play well or badly. It's a good thing.
Have you taught your daughter Salomé the salsa dance Ras Tas Tas (as danced by the side at the World Cup)?
She's 14 months old and knows how to do it well [laughs]
Where did you learn to dance so well?
With Armero and Cuadrado it's easy to learn... there are a lot of good dancers.
Your father in law was important to your career...
Yes. He got me playing when I was six. He put me into football school. Many people don't know that it was him who got me excited about playing football. He said I had things other boys didn't have. He still follows me and gives me advice, because he knows a lot about football.
How is a day in the life of James?
When I'm not training I get up at 9. If I can I eat Colombian food, because when you're away you miss it. And I spend as much time as I can with my family.
How are you coping with the pressure of being media icon?
I don't like it at all. Leaving the house and having the cameras waiting for you... There's nothing better than coming out and everything being calm. But at the moment I can't have that. I need to understand that and cope with it. I'm at club that's always in the spotlight.
Do you know where you'll live in Madrid?
Not yet. When I go I'll get on with that tough job. I'd like to live in a big house, with a garden, if possible with a pool and room for barbecues. A place to be relaxed.
How do you see Cuadrado's possible move to Barcelona?
I hope it happens, because he's a great friend of mine. If he does, it will open the door for other Colombians, because there'll be several of us at big clubs.
And your brother in law's signing by Arsenal?
I'm delighted, because he's a great goalkeeper and a good fellow. I hope he has a lot of success at that big club. I think he's good enough to be number one at Arsenal.
What do you think about Pékerman continuing as coach of Colombia or not?
We all need to make an effort so José stays. He changed our side for the better. He's made a lot of good changes. If he leaves I'll be pretty sad and the bar will be set very high for whoever come in after him.
Let's close with two more questions about Madrid. Are you ready for the possibility that you start the season not being in the starting XI?
Obviously, yes. First I need to train well to have a chance of being in the XI. Almost all the rest have been together for three or four years. That needs to be respected and getting into the team happens little by little. And when I have the chance I have to do well.
And a message for the Madrid fans?
They should know that I will always give it my all. And with their support we'll win a lot of titles.