BARCELONA
Neymar Sr summoned to testify by Spanish High Court judge
Barcelona's financial director has also been ordered to appear on 1 October. Judge Pablo Ruz has asked for Barça's boardroom minutes from 2013.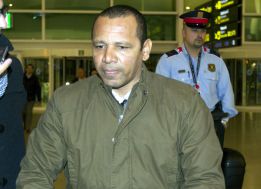 Spanish High Court Judge Pablo Ruz has summoned the father of Barcelona star Neymar to appear as a witness on 1 October as part of a probe into the player's signing.
Blaugrana financial director Néstor Almela has also been called on the same day.
Ex-Barça president Sandro Rosell, who resigned in January following Ruz's decision to investigate a lawsuit brought against him over the transfer by club member Jordi Cases, testified on 22 July.
In a statement dated last Friday, the judge has handed Neymar Sr a period of ten days in which to provide the court with several pieces of documentation relating to his son's move to the Camp Nou in the summer of 2013.
These include details of the amounts paid by Barcelona in variable remunerations, expenses reimbursements and direct payments motivated by the player and his family's move to Spain.
He has additionally demanded that the father submit documentation connected to the payment of 900,000 euros from image rights for the 2013/14 season, as well as the 2013 invoices relating to the charging of 5% commission on the income of Neymar Jr and the company N&N.
Ruz has also asked for Barcelona's 2013 boardroom minutes until 10 June, in addition to requesting that an expert compile a report on the payments and payment agreements arising from the player's transfer.
Meanwhile, the High Court judge has given the parties involved five days in which to respond to the documentation submitted by Cases to extend his suit to encompass current Barça chief Josep María Bartomeu and economic vice-president Javier Faus.