REAL MADRID | ANCELOTTI
Carlo Ancelotti says Real Madrid don't need another striker
The Real Madrid coach spoke after his side's 1-1 draw with Inter and said the squad didn't need back up for Benzema.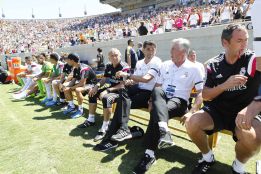 Carlo Ancelotti said, after Real Madrid's game against Inter in the California Memorial Stadium, that the club didn't need to sign a new number '9': "We won't bring one in, because we don't need one".
Were you surprised by how tough Inter were?
I wasn't surprised, it was a competitive game, with a lot of intensity, but it is a pre-season game.
How would you assess the match?
I'm satisfied, because the young guys had a good game. Focused. With character. In that sense the game was good. The players showed good physical condition. Some of the youngsters showed a lot of character. That's good. We played with a nice style. A fresh style to start the season. In the first 45 minutes we were good in attack.
Bale was physically impressive. How do you see him?
He can enjoy this spell so he starts the season well. The competitive games are still to come, but right now he's working well. This will be a different season for him, compared to his first. He's had some good holidays, 40 days, and he's fresh.
What does James bring to the team?
He be with us on 1 August. He's a big player. He's got the quality to play in this side. He's a young player, and an investment for the future.
Di María is close to going to PSG...
I don't have any news about that. I know the same about Di María as I do about the others. The World Cup is over and on 5 August he should be in Valdebebas.
Madrid played this match without a centre-forward from the first team. Are you worried about that ahead of the coming season? Will you bring someone in?
With this squad we can play well with a variety of options. First of all we have Benzema, who is very reliable. Isco can play as a false nine. It's not such a big deal to have a centre-forward who scores lots of goals. We need a player to put the ball in for Bale or Cristiano. We're not going to look for another striker, because we don't need one.
Will Madrid come back to the US next year?
We've got everything [here] we need for a good pre-season. Good infrastructure, top rivals. T's an ideal place and we wouldn't have any issues with coming back next year.