REAL MADRID | FALCAO
Radamel Falcao, favourite for Real Madrid up front
The striker could come on loan for 12.5 million euros, with the player accepting a 50% reduction in his wages. In 2015 Madrid would pay 33 million for the complete transfer.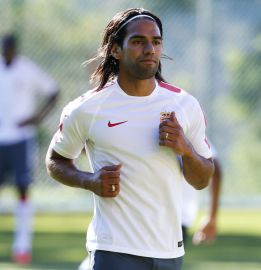 With James, Kroos and Navas signed (although the latter is yet to be announced publicly), Madrid now need a number 9 to finish their squad and make it as competitive as possible for their fight for the six titles on offer this season.
Morata's departure has left Benzema as the only out and out striker in the squad, so club bosses are focused on bringing in someone in the position. In principle Madrid wanted a player with a profile similar to Morata, to support Benzema, but having not found anyone to the club's liking, a month ago the decision was taken to 'go large'. First choice is Falcao, and if that fails then Lukaku. As this paper revealed Madrid and Monaco have been in talks over the transfer since 28 June. The Colombian has always dreamt of playing for Real, and has made that clear to his agent Jorge Mendes, who is involved in all the negotiations (he is also James' agent).
The most recent proposal is that Monaco would loan the player for a season for 12.5 million euros (Atlético sold Falcao to the club from the principality for 50 million euros, payable in 4 instalments of 12.5 million euros, and the loan money would cover one of these instalments). Real Madrid would also pay the player's salary. Falcao currently earns 14 million euros a year, a figure Real won't pay, but Falcao has indicated to the Spanish club that he is willing to accept half that amount for the opportunity to play in white at the Bernabéu.
After the year loan period if Madrid wish to continue with the player they would have the option to pay 33 million euros more to Monaco to complete the transfer.
The only doubt is the physical state of El Tigre, who hasn't played a minute of competitive football since his knee injury. He turned down the opportunity of playing for Colombia at the World Cup to ensure his full fitness and is still working on reaching peak condition. His fitness coach Joaquín Juan (who worked with him in Madrid during his recovery process) thinks he's in perfect shape: "He has a privileged physique, with quick regeneration of tissues. I've treated a lot of elite sportsmen, but this lad has something special. He has spectacular genetic material", he said to AS.
Madrid are keen to complete their squad as soon as possible and not have last minute signings as happened last year with Bale. The arrival of Falcao would in principle be an end to the summer signings and the only transfer activity for the club would be to negotiate the departure of unneeded players.