REAL MADRID
James Rodríguez in Madrid and to be unveiled on Tuesday
Real Madrid have agreed an 80-million-euro transfer fee with Ligue 1 side Monaco. The deal could be officially confirmed on Monday.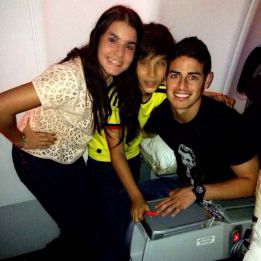 James Rodríguez is a new Real Madrid player, with the transfer now only awaiting official confirmation. The 23-year-old has arrived in the Spanish capital after a short stop in Portugal, and an announcement of the deal is imminent. It is very likely that he will be unveiled on Tuesday lunchtime.
Talks between Madrid and Monaco are complete. Los Blancos will pay around 80 million euros for the attacking midfielder, while a player could be included in the deal (Monaco are keen on Diego López, but the goalkeeper does not want to leave the club).
Real plan to unveil the Colombia international at the Santiago Bernabéu on Tuesday. Florentino Pérez and José Ángel Sánchez will delay their trip to the USA, where the first team squad set off for on Monday ahead of a pre-season tour. James will join up with the squad, together with Raphael Varane and Karim Benzema, on 1 August.
James refused to say anything about his move to Madrid when he was asked by reporters at Adolfo Suárez-Madrid Barajas T4 on Sunday afternoon. The player was in the capital to take a connecting flight to Portugal.
At the Bernabéu, everything is in place for the unveiling: the President's suite has been ready since last Thursday when Toni Kroos was presented and there is even a plaque bearing his name on his future room - No.110, at the players' residence in Valdebebas. James will wear the number 10 shirt which was last worn by Mesut Özil.