REAL MADRID | DI MARÍA
Di María wants to leave Madrid, James could take his place
'El Fideo' has asked for a transfer. He doesn't feel the club values him and could fetch 50 million euros. If he goes the Colombian could come in.
Carmen Colino / Sergio Gómez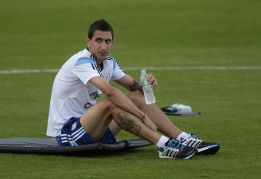 Di María wants to leave Real Madrid. He feels he still isn't valued at the club and has asked for a transfer. Monaco, PSG, City, United and Juventus want him and Madrid would be willing to sell him for 50 million euros. Monaco have shown the most interest so far. The club where James Rodríguez plays and the man who could come in as a replacement. He's been the revelation of the World Cup, and for the Colombian it would be a dream move. He could even end up at Madrid at the same time as Falcao arrives, if Madrid go ahead with his transfer. Jorge Mendes is agent to all three.
Di María let slip his thoughts a few days ago: "I still don't know if I'll stay at Madrid. I'm happy, but we'll see what happens". And yesterday his words about Messi surprised many, saying "he's the best in the world. Nobody can do what he does". The implicit slight on Cristiano, current Ballon d'Or holder, seems part of a clear strategy to leave the club.
His departure has been coming for a while. In December he offered to leave, having been pushed down the pecking order by Bale. Eugenio López, his representative, said back then, "That's a subject for the president, I don't want to talk". Madrid said he wouldn't be leaving and Di María reacted with annoyance. "If he's not happy, the door to my office is always open", said Ancelotti. It was the Italian who managed to turn the Argentine around and help him show his best on the pitch, with a brilliant end to the season. Ancelotti had him in his plans for next season, but Di María doesn't want to continue with the Champions of Europe.