REAL MADRID | FALCAO
Monaco agree to negotiate with Real Madrid over Falcao
The Ligue 1 side's Russian owner agreed with Falcao that he would let the striker leave at a reasonable price if Madrid came calling - and that moment has arrived.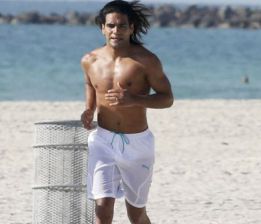 Real Madrid's bid to sign Radamel Falcao is underway. It is still in its early stages, but the player's firm desire to pull on the white shirt can only bring it to a successful conclusion. Los Blancos have set the wheels in motion discreetly so as not to push the price of the transfer up, while Monaco are aware that they will have to sit down and negotiate over the Colombian's ultimate departure.
Monaco bought Falcao from Atlético Madrid a year ago for 45 million euros. The 28-year-old signed a five-year deal (his contract ends in 2018) worth 14 million a season net. Many saw the transfer as a buffer for a move to Real Madrid in the following summer transfer window. Indeed, Falcao reached a formal agreement with Dmitry Rybolovlev that would oblige Monaco's Russian billionaire owner to sit down and negotiate if Madrid came calling. And that is exactly what will happen in the coming days.
Falcao has waited his moment to realise his dream of signing for Real Madrid. Some weeks ago, he rejected a huge offer from Manchester United, where Louis van Gaal is to take charge after the World Cup. Other Premier League teams were also interested in the player, including Chelsea (after being turned down by the striker they moved their attentions to Diego Costa). The approaches saw Falcao tell his agent, Jorge Mendes, to pass on the following message to Rybolovlev: "He doesn't need to worry; I won't let him down unless Madrid call me." Now that call has come, he could not hide his delight in conversations with his international team-mates, telling them – as AS reported on Saturday – that he expects to complete a dream move to Madrid this summer.
The only guarantee that Madrid have sought is information on his physical condition, leading Joaquín Juan, the physio trusted by Cristiano Ronaldo and basketball star Pau Gasol, to visit the Colombian. Juan has sent very positive reports to Madrid: "The anterior cruciate ligament in his left knee has healed perfectly. He only needs to build up his fitness."
Falcao opted to spend the summer training rather than taking the risk of going to the World Cup – all with the aim of realising a childhood dream. The player's inner circle is in no doubt: "If the fans knew how passionately Falcao wants to play for Madrid, they would give him a Mexican wave at the Bernabéu," one authorised voice told AS. It's all a matter of time. Falcao has a good chance of joining Real Madrid...