REAL MADRID | FALCAO
"Falcao thinks he's going to join Real Madrid this summer"
The 28-year-old Monaco striker has told his Colombia team-mates that he expects to make a close-season switch to the Santiago Bernabéu outfit.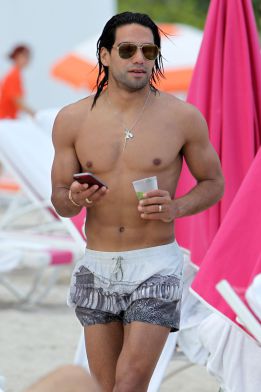 "Falcao thinks he's going to join Real Madrid this summer. He dreams of playing there, and is only prepared to listen to offers from Los Blancos." That's the verdict of one of the striker's Colombia team-mates, who spoke to the player at Los Cafeteros' World Cup base in Brazil.
The Monaco man was a visitor at the Colombia camp in Cotía (Sao Paulo) in recent days and, while there, revealed his plans for next season to his closest colleagues: to play for Madrid. The possibility that he could wear a Real shirt in the coming campaign has caused "childlike excitement" in the 28-year-old, admits another of his international team-mates, who repeated the ex-Atlético Madrid man's exact words: "My future depends on God... and in this case God is Florentino Pérez."
Falcao's desire to play for Real Madrid is nothing new. Some time ago, his father confessed: "He has always wanted to play for Madrid." The comments, coming at a time when his son was still an Atlético player, led to controversy between two clubs that had previously been involved in an identical conflict over Sergio Agüero.
The Colombian's obsession with Real Madrid is such that he signed for Monaco last summer in a deal that included a get-out clause triggered by an approach from the Santiago Bernabéu outfit. This would allow his time in Ligue 1 to serve as a bridge between Atlético and Real. Furthermore, he has not severed his ties with the Spanish capital, having kept his house in the elite neighbourhood of La Finca and undergone his recovery from a serious knee injury in the city.