SPAIN
Spain touch down in Madrid after suffering lightning strike scare
The La Roja squad arrived back in the Spanish capital on Tuesday. The incident occurred as the aircraft approached Barajas, but caused no consequences.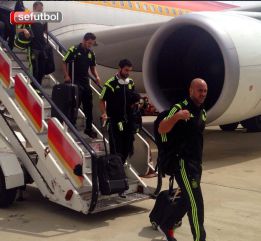 Sad, resigned and out to make amends. That was the feeling among the Spain squad as it returned to Madrid after a disastrous World Cup 2014 in which they were knocked out in the group stage. Iberia flight 2907 from Curitiba proved a quiet journey, until a bolt of lightning struck the aeroplane's right wing and caused a noise akin to an explosion as the craft began its approach to Adolfo Suárez Madrid-Barajas Airport. The captain was swift to explain the source of the noise and put the passengers at their ease. Once on the ground, the players did not leave through the exit at which around 250 fans were waiting with placards of support.
With Diego Costa, Cesc Fábregas and Gerard Piqué beginning their holidays from Brazil, 20 Spain players returned to the Spanish capital. During the flight, the players were barely seen in the compartment accommodating the media at the rear of the plane. Xavi Hernández and Pepe Reina did make their way to the back of the aircraft, the midfielder to talk to journalist friends and the goalkeeper to look after his wife Yolanda, who had travelled to Brazil to see her husband's debut at a World Cup. Most slept, while some took the chance to enjoy the new Spanish comedy 'Ocho apellidos vascos' ('Eight Basque Surnames'), the headline film among those available to the passengers aboard the Airbus 330.
Spanish Football Federation (RFEF) president Ángel María Villar took advantage of the plane's scheduled stop in Las Palmas to discuss watches with Luis Uranga, one of the Selección's delegates, and RFEF communications director Antonio Bustillo. Villar, who appeared in excellent spirits, has also felt huge disappointment at La Roja's elimination. However, some months ago he admitted privately that going far in this tournament would be a tall order. Miguel Cardenal also returned on the flight, and offered his encouragement to the players, coaching staff, federation officials and journalists, the country's secretary of state for sport declaring his conviction that Spain will again be world champions.