REAL MADRID | MORATA
Álvaro Morata: 30 million euros or 18 with a repurchase option
Madrid are already combing the market for a replacement for the young striker, with "similar characteristics".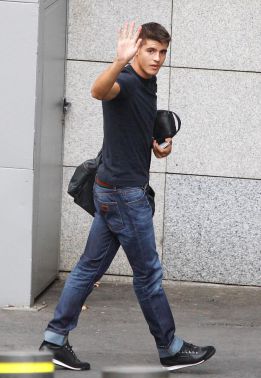 Madrid want 30 million euros for Morata. That's the price they are demanding for a full transfer of the player, even though his contract is up next season. However if the buyer gives them a repurchase option (with Real worried about the fans' reaction should the player turn into superstar when given a chance to blossom) the price falls, to between 18 and 25 million euros, if the transfer is reversible within two years. The repurchase option currently being discussed would be for Madrid to pay a 30% premium. That is, should they sell him for 20 million now, they could (provided the player agreed) buy him back for 26 million in two year's time.
Morata's agents are keen to sort out his future as soon as possible, without waiting for the World Cup to end. Italian sides Juve and Inter have already spoken to Madrid; Arsenal are waiting in the wings and in Germany Wolfsburg are leading the pack. Their president, Spaniard Garcia Sanz has an excellent relationship with Florentino Pérez. The main problem for Madrid is that the majority of the possible buyers aren't keen on a repurchase option (except for Wolfsburg and Dortmund) or they want the premium Madrid has to pay in the future increased beyond 30%.
Madrid are also still attempting to extend the player's contract and then loan him out. Morata doesn't want to go down that route, unless it's to go to Villarreal, always provided Madrid equal (or improve) the salary he's being offered by the big sides looking to pick him up (around three million net is being quoted). Madrid have already begun their search of the market for, as Ancelotti said, "a youngster with his characteristics". Names such as Benteke (Aston Villa), Lukaku (Chelsea), Volland (Hoffenheim) or Iturbe (Hellas Verona) are being talked about.