WORLD CUP | PELE
Pele: "Xavi is the main man, he's the one we should talk about"
The Brazilian legend spoke to AS with just a couple of days before the World Cup in his home nation starts.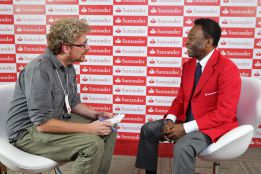 Can I make a confession and ask you some advice?
Of course.
Look, I was so excited about interviewing you and I told my young son about it yesterday, and he didn't understand why I was so thrilled. I'm sure he thought it would be more exciting if his Dad was interviewing Messi or Cristiano. How serious is this? And what punishment does he deserve?
(Laughs). No, man. There's an easy solution. Show him the videos of me playing and he can decide. If you don't have them, speak to my assistant and we'll send you a DVD.
You've been doing interviews for three hours now and you're as fresh as a daisy, how do you do it?
It's work. It's not tiring. Also, if you want me to tell you the secret... I only do it every four years.
In the photocall just now you were looking at a copy of AS and when you saw Xavi's name you said...
Yes, he's main man, he's the one we need to talk about. I'll say it again. I love Xavi. He's excellent. I really like Barça mainly for Xavi, as well as Iniesta and Messi... the side reminds me of my time at Santos with Zito, Coutinho, Pepe...
Diego Costa is on our front page, a Brazilian who's playing for Spain. Does that surprise you?
It surprises me to the extent that before nobody would have given up the chance of playing for Brazil. But times have changed. And the main thing is to respect his decision. He needs to be where he feels comfortable and that's with Spain. He had the chance to do it because he's got dual nationality and the only thing I want now is that he's not lucky against Brazil.
Who do you want to see in this World Cup?
Barça
You mean Spain?
Of course, but I see the way Spain plays as being similar to the way Barça plays. Barcelona is the team behind Spain. In fact, there should be eight players from Barça in the side. They've set out the style. It's a team that reminds me a lot of my teams.
Who else do you want to see?
Germany, above all. They're good. Those are the two teams I want to see.
Do you dream of playing football?
Of course. Quite a lot.
Did it happen when you played, or only when you retired?
No, I've always dreamt of playing football. But the dreams are different now.
How?
Look, when I played I dreamt I was on the pitch and I was in charge. I was always telling my teammates what to do, or giving someone a row, demanding the ball all the time.
And now?
Now I dream I'm in the Maracaná and I score and then I wake up. How silly, no?
Not at all. And, sorry for the psychoanalysis, but are any of the goals you score [in your dreams] goals you didn't score?
What do you mean?
Whether in your dreams the shot from the halfway line goes in, or if the ball you run round as Mazurkiewicz comes out ends up in the net?
(Laughs) Noooooo, they still go wide.
What do you miss about football from back then?
What's changed is the mentality. Now it's all about winning and people have forgotten the game and the spectacle. The worst part of it is the commerciality around football.
Talking of that, you were still very young when you were already incredibly famous, and Neymar is now in the same boat. What advice would you give him so he doesn't lose his way?
I was really lucky, because my father had been a football player and he had it all thought out. And that was the case even though I played a World Cup when I was 17. He gave me so much support and so it all seemed quite normal to me. Fame can be dangerous, but family is so important. But there is another problem...
Which is?
The media, the social networks. In my era there wasn't that available, and now players are artists, painters, models... they do it all. That's the big difference from my time.
You received your fair amount of kicks when you played. Was football tougher then?
No, it was just as tough, but now the referees protect the players more. I think I could still be playing now if I was just in the right shape.
You were a boy when the 'Maracanazo' happened (when Uruguay beat Brazil in the final game of the 1950 World Cup at the Maracana to win the title) and you say you say your father cry. How are you preparing for this World Cup?
Well. We got our revenge in 1970 in the quarter-finals. In the game with Mazurkiewicz. The wound was healed, though I'd like to repeat the final against Uruguay. That would give definitive closure.
And it would also put a stop to the protests against the World Cup. How do you explain that Brazilians don't want the Cup?
They do want it, but you have to differentiate. What I've been explaining for a long time now is that football is not to blame. People have their reasons for protesting, but they aren't protesting against football. This sport has given Brazil its best moments. It's made the country great. Political corruption is something else.