WORLD CUP 2014 | DEL BOSQUE
"We'll have to check if Diego Costa is OK versus El Salvador"
Del Bosque told Radio Marca he will be trying out the Brazilian-born Spain striker on Saturday. Juanfran is also set to start.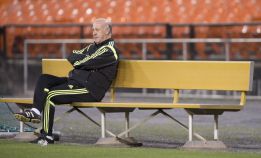 Spain coach Vicente del Bosque spoke to Radio Marca about his possible starting XI to face Holland in Spain's opening World Cup clash ("nine players decided"), and how Diego Costa and Juanfran are almost certain to be in the starting line-up in Washington when Spain play El Salvador (22.00 hours CET).
Which game most worries you? "I'm concerned about the first one the most, the game against Holland. They're a very well-organised and well-drilled side, and for sure they'll cause us many problems. We've already decided on nine or ten players and then there are a couple of doubts, which is normal."
The absence of Navas: "Yes, we're really happy with Jesús because he's a different player with that difficulty that has served us so well; but on the 15th something happened… Anyway, I don't want to create a chronology of what happened. We were a little scared with Navas, though I don't want to justify him being left out. I think he always looks happy and has a permanent smile."
Diego Costa and Juanfran: "We don't want them to get injured again but we want to test them out during the game and I hope the response is good. If we can check this in the El Salvador game then great."
The players' fitness: "You wouldn't think it was the end of the season. I believe they're physically talented and have something to play for coming up. They're training well and we'll go into it in good shape."
Optimism: "I don't know. The competition is tough, but in terms of fitness levels I don't think there is any reason to worry, and also knowing we'll be playing in very hot and humid conditions."
Hunger, motivation: "We have a big motivation in front of us. An unparalleled showcase."
Dreaming: "I have no aim other than to fulfil my responsibility and try to do the best job possible. Hopefully luck will be on our side and we do our job."
Piqué's conversation caught on microphone: "I don't want to comment on that, I think that emerging is in bad taste, but I don't want to comment. That's what we're exposed to."
Cesc Fábregas: "They're decisions made by the club that I can't assess them. He's a Spain player and he's training well. He's a very useful player."