BARCELONA | LUIS ENRIQUE
Enrique: "I can't wait to hear the Barça anthem at the Camp Nou"
New Barça boss Luis Enrique was grateful for the chance to take charge at the Camp Nou: "Today is the realisation of everything a coach aspires to."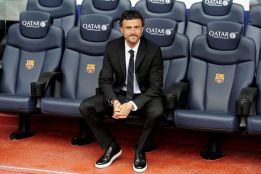 Luis Enrique was raring to get straight down to work as Barcelona boss as he was unveiled by the Blaugrana on Wednesday afternoon. Flanked by president Josep Maria Bartomeu and sporting director Andoni Zubizarreta, the 44-year-old promised to bring the fans excitement and admitted his delight at returning to the club he left in 2011.
"I'd like to thank Bartomeu, Zubizarreta and the whole board for its decision, for giving me their backing and for placing their faith in me and my team," Enrique said. "Today is a very exciting, special day for me, on which we begin to build a new Barça that will be exciting and get the results we're looking for. When I left Barça B, they said to me that it wasn't 'goodbye' but 'see you soon', and they've been as good as their word. Today is the realisation of everything a coach aspires to."
To-do list: "I have to see the facilities, the place where we'll work and we'll sit down with the sporting management. I'll let myself be guided by them, although I know the club well."
Defining himself as a coach: "Handsome, tall, nice guy… A coach is more a leader than a football coach, and that is measured in many ways. Not just technical or tactical knowledge. There are many things that have an influence. I try to bring together a number of things that only benefit the club."
Special: "Today is a very special day for me. There's no sun, but when I left my house this morning I saw glorious sunshine and said: 'It's amazing, I'm going to coach Barcelona'. I suffered at the end of the season like any other Barça fan. Everything else is in the past, it's in football's history."
Leo Messi: "I'm delighted to have the best player in the world in my squad. And the club must feel the same, because they've renewed his contract. His performance this season hasn't been as incredible as other seasons, but it's still impressive. I hope under me he can find his best form. He's indispensable, a unique player."
Style of play: "We'll play attacking football, as has been Barça's identity in recent years. That's the way the team is known in the rest of the world. I'm looking to see a very attractive style of football: that's my challenge. I want my team to have a model to its play. I want my players to shine to the highest possible level and I want there to be competition. It's good that not everyone can play and that they get angry when they don't. I want the pressure of winning every day."
Discipline: "I'm always positive, don't worry. I'm going to manage the team as I have in the past. I admire them as a football fan and a club member, but as a coach my job is to help them. We don't need heavy discipline, but communication and to be demanding of ourselves. I like my players to train well. We'll work with the ball, which is what it's all about. The most important thing is that the players enjoy their training and enjoy this wonderful profession. If we're all together – team, coach, board and fans – we're much stronger."
Xavi: "He's a friend and former team-mate. I could say great things about him. The time will come to sit down and talk and assess what we all want. We'll wait before making decisions."
Managing egos: "In every team there are people with more weight than others, but what it's all about is working all together. We'll agree on all the important things, the things that have to be respected. The players are very intelligent and their conduct will be good in every area. It's about talking, communicating and then we'll see. If there's an unpleasant situation, we'll manage it."
Plans: "I've seen the team a lot this season. I understand you want to know everything, but we take things much more calmly than you [the press]. The players have to know that if they aren't at the level required then there could be changes. We can't forget that there's a market and there are many things to be managed. We'll strengthen in all areas and try to have a team that will excite people."
Trophies: "We've just come from a very good period, winning a lot of trophies and playing very good football. It's difficult to get used to anything else. The demands couldn't be higher. You can't win any old way."
Javier Mascherano: "This is a bit like [the question about] Xavi. They're very important footballers, not just on the field. You see how he manages himself, like a captain. There'll be time to make decisions."
Is 4-3-3 non-negotiable? "What we have to achieve is a system that benefits everyone."
Francesco Totti: "It's a myth that follows me around like Tassotti. I remember the day I announced I was leaving Roma, one of the few players who came to see me was Totti. Saying that we don't get on well sells newspapers, but the truth is very different."
Intensity: "As far as I'm aware, the Barça players train well. The intensity has to be there, the way you train is how you'll perform on the field. There'll be intensity."
Giving youth products their chance: "I love to support young players, but I demand the maximum from them. I open the door to them, but they have to be ambitious and live for Barça."
Comparisons with Pep Guardiola: "I'd like to send him my regards and congratulate him on what he has achieved this season. Does it scare me? This is one of the happiest days of my life. I think about my family and all the people who love me and have been there with me, and dedicate it to them. I spoke to him [Guardiola]. We're friends and our families have a very good relationship."
Cesc Fàbregas: "We shouldn't make any decisions, there's time for everything."
Trophies: "I'm here to win trophies and everything is judged by the silverware you win."
Strategy: "There's no better way of defending than having possession of the ball. We have to surprise our opponents and we will bring in little touches so that we can do that. We have to give the team solutions so as not to be predictable."
Neymar: "I'm delighted that he's here."