CHAMPIONS LEAGUE | REAL MADRID - ATLÉTICO
Diego Costa in Belgrade to see 'placenta doctor' Kovacevic
Known as the 'miracle doctor', Marijana Kovacevic uses horse placenta to bring players back from muscle injuries. Diego Costa is in search of a miracle in Serbia.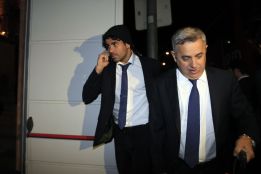 Her name is Marijana Kovacevic and they call her the 'miracle doctor'. Diego Costa has travelled to Belgrade as Atlético Madrid turn to the Serbian specialist for a miracle – and to get the forward back fit.
Costa has escaped a tear to his right hamstring, instead suffering an accumulation of spasms that threaten to end up KO-ing the 25-year-old. On widespread advice, he has flown to the Serbian capital to see Kovacevic – who has become well-known for using horse placenta to treat muscular injuries – and will return on Wednesday to join up with Diego Simeone's squad at Los Ángeles de San Rafael.
The player's flying visit to Belgrade indicates that he is exploring every possible avenue towards a possible recovery in time for Saturday's Champions League final. Kovacevic's former patients include Frank Lampard, Glen Johnson, Yossi Benayoun and Albert Riera. She is to work as Ghana's national team doctor at this summer's World Cup – and is Costa's last chance.