BARCELONA | DANI ALVES
Dani Alves: "If I'm to stay, there has to be a change of energy"
The defender spoke to RAC1 about his future and the possible arrival of Luis Enrique: "At this club people are often too hasty. We're still fighting for the title."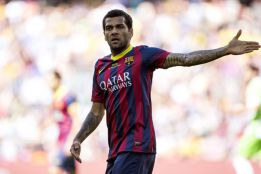 Barcelona defender Dani Alves has told radio station RAC1 that there are "a lot of doubts" over his future at the Catalan club. Speaking on Thursday, the Brazilian insisted that he will consider a change of scene if the "energy" he's on the end of doesn't change.
Current situation at Barça: "It's very hard to get the chance to play for Barcelona and, whether people like it or not, I'm part of the history of this club. I need energy, it's what motivates me; I'm an upbeat, happy person. I've always been that way, but because results aren't what people expect they need something to shoot at and I feel shot at. I really believe in energy, I live off this energy and, if you start to create negative energy, things don't flow. If this energy doesn't change, I'll probably leave because it wears you down. If I'm to stay this summer, there has to be a change of energy."
New signings: "Now we have young players. People shouldn't think that a Xavi or an Iniesta is going to appear every day; they're unique, and however good the others are, they're never going to get to where they are. Xavi and Iniesta began to be great players when they were 25 or 26."
Possible arrival of Luis Enrique to replace Gerardo 'Tata' Martino: "As a player I think he was phenomenal and as a coach he's doing a very good job at Celta, but I think that at this club people are often too hasty. We're still fighting for the title. People need to take things a bit more calmly, not rush things so much, because the season hasn't finished."
Title run-in: "If we don't win the league, this season is a disaster. We're getting too many chances, and you can't let chances slip. I trust this team 100% and I guarantee we won't disappoint."
Neymar case: "Very strange things happen here. Real Madrid were going to pay 100 million euros for Neymar, Barça get him for 57 and people say it's an incredible amount. What's incredible is that he came here when 100 million was being offered."