LIGA BBVA | VALLADOLID 1 - REAL MADRID 1
Concern over Di María and Pepe injuries; CR7 not serious
The Portuguese star was substituted with "muscular fatigue". The Argentine could miss the World Cup with a groin injury, while the defender has a calf issue.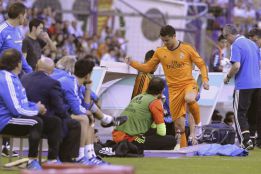 Cristiano Ronaldo, Ángel Di María and Pepe all ended Real Madrid's 1-1 draw against Real Valladolid with injury problems.
Although Cristiano's issue does not appear to be serious, there is greater concern over his two team-mates. Pepe suffered a sharp pain in his calf and his participation in the Champions League final could be in danger. Di María's involvement in Lisbon is also in doubt after experiencing discomfort in his hip and picking up a groin injury. The player fears that he has a tear, which would rule him out of the final against Atlético Madrid and potentially also the World Cup. The players will undergo tests on Thursday.
Cristiano was substituted in the eighth minute at the Estado José Zorrilla after again being troubled by a left hamstring problem. The Portugal star was yet to make a significant impact on Wednesday night's clash when he complained of discomfort after running at the defence, and asked to be replaced. Álvaro Morata was introduced in place of the 29-year-old, who thumped the dugout in anger as he left the field. He is thought to have felt muscular fatigue, leading him to the decision not to play on.
"It doesn't seem serious," said Madrid director Miguel Pardeza, adding that the player also had a sore calf.
During Tuesday's final training session before facing Valladolid, Cristiano told coach Carlo Ancelotti that he was not 100% fit and still felt discomfort. Despite this, both player and coaching staff were unfazed. On 2 April, the forward limped off against Borussia Dortmund and was out of action until seventeen days later. Having missed the second leg against the Germans and the Copa del Rey final against Barcelona, he made his return against Bayern Munich.