RONALDO
Cristiano: "Neymar could be the best player in the world"
The Real Madrid striker spoke to 'SporTV News' and praised the Barcelona forward, though he said it had taken him time to get used to his new club.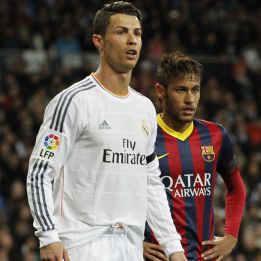 The winner of the 2013 Ballon d'Or, Cristiano Ronaldo, said in an interview with 'SporTV News' he was certain that Neymar could win the prize one day. "I think Neymar is a great player. I think he's shown over recent seasons that he's one of the players of the future and has every possibility to be a major talent" said Cristiano.
That said, Ronaldo did also say that he felt Neymar's acclimatisation to Barcelona hadn't been perfect at the start of the season. "He didn't adapt that well to Barcelona, he had some problems at the start, but I don't have any doubt that he has the potential to be one of the best players in the world, or even the best", said the Portugal captain.
Talking about his own game, Cristiano didn't attempt to hide his desire to improve every year and to "help" his team "evolve". "I'm not trying anything different to previous years. I try to do the best possible every single moment."
As to Portugal's chances in the World Cup, Ronaldo said his side were "in the toughest group". "We're not favourites, but we'll try to enjoy ourselves. We know we've got a tough group stage, in my opinion the toughest in the World Cup, but we'll take it step by step. We've got an important game against Germany in the first match and then Ghana and the US to get through to the Group Stage. After that, we'll see..."