VALENCIA 0-1 ATLÉTICO
A Championship win
Atleti won in the Mestalla with a headed goal from Raúl García just before the break. With three games left, two wins would give Simeone's side the title.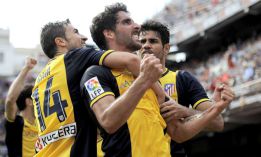 When Undiano blew the final whistle Arda kissed the Mestalla turf and the more than 3,000 Atleti fans who had accompanied their side went mental, refusing to leave the stands while they demanded the return of their heroes, as happy as if the League was already theirs. It isn't. But almost. Because with three games to go, and having overcome the matches that seemed to offer the biggest tests, Atleti are starting to see the light glinting off the trophy at the heart of this labyrinth. There are three matches left and if they win two, they'll be champions no matter what else happens. The feat is beginning to appear inevitable.
Valencia, in spite of the doubts caused by the shadow of the Europa League, never appeared uninterested. In fact, Alcácer took just a minute to show that there'd be no white flag, with a shot from a central position that went just wide. For half an hour, only interrupted by a curling shot from Villa looking for the top corner, the home side achieved something seldom seen: they managed to unsettle Atleti. Cholo's lot ran miles but always arrived late, chasing balls that had already gone, with none of their usual control. But in Courtois' area there was nothing new: the best defence in the League continues impeccably. No mistakes, no chances given.
The defensive solidity eventually calmed the rest of the team and Gabi and Tiago took control. Barragán cleared a Filipe shot and Koke shot high after some great work down the right from Diego Costa. Atleti, aware that for them there was basically no difference between a draw and a defeat, forced up the pitch until the most unexpected duo in history went to work again: Gabi and Raúl García, two footballers who left by the back door at the Calderón only to return to become a major name. Credit to Cholo, of course, but especially to both of them, for their personality, their strength and their commitment. Perfect examples.
The folk heroes came together in the 43rd minute to create a goal that could be worth the league. Gabi sent a great ball into the heart of the box and Guaita went for it in a daft run off his line, forgetting what he should have learnt in the Cup: that Raúl García's headers are magnetic. With his back to goal he flicked the ball goalwards, which on its trajectory played with the emotions of thousands of Atleti fans, hitting the post before tamely settling over the line. Raúl Garcia's 17th goal this season (nine in the league, four in Champions League and Copa respectively). Scandalously good.
With the second half having just started Atleti could have finished it off, but Diego Costa reminded everybody that a quiet party ain't no party and failed to convert a one on one with Guaita. Debating over whether to shoot or set up Villa, he ended up shooting late and at the keeper. 'El Guaje', who continues to look for his long-lost friend the goal, once again gave a perfect example of attitude and left with an ovation from a Mestalla with a decent memory. Not every footballer with his talent would willingly accept the secondary role he has so keenly.
Possibly thinking about Chelsea, as imminent rival and recent example, Atleti clearly sat back at the end of the game. Courtois, Mirando and Godín turn what would be extreme risk for others into mild risk for Atleti, though they still had a major scare in 74 minutes when Feghouli went just wide with the Belgian beaten. Over the heart-attack Diego Costa, strangely doubtful, once again missed a one on one against the keeper, setting up a tense final few minutes in which Juanfran accepted a red card for breaking up a counter attack with a foul on Piatti. Nothing strange there.
The numbers tell the story for this legendary Atleti side: record number of points (88), 20 games without conceding, first time in 26 league visits they've left the Mestalla unbeaten, nine consecutive wins... and they can still improve. To Simeone's masterpiece just needs to be added the finishing touch... titles. And they are close.