CHAMPIONS LEAGUE | REAL MADRID - BAYERN
"Bayern might be Madrid's bête noire, but they aren't mine"
Ancelotti was mindful of his good record against the Germans. He was optimistic over CR7's chances, but said: "If there are risks of a recurrence he won't play."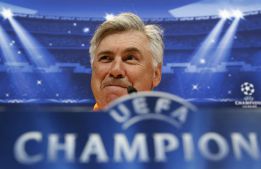 "Bayern Munich aren't my bête noire. I've had good results against them," were the words of Real Madrid coach Carlo Ancelotti ahead of Wednesday's Champions League semi-final first leg at the Santiago Bernabéu (20:45 CET).
Cristiano Ronaldo: "Cristiano trained as normal today, he has trained well these last days. We have another test with him tomorrow, but it's clear that he'll play if everyone is sure that he can play without any problems. We're confident that he'll play, but we'll make a decision tomorrow."
Relapse: "If there are risks of a recurrence he won't play. This is a tie that won't be decided tomorrow. We might gain an advantage in the home leg, but the decisive match is on Tuesday."
Gareth Bale: "He's very happy. Yesterday he had a small problem, but he seems really up for it. He's confident, as is the whole team. After the goal against Barcelona in the final, it's normal for him to have more confidence."
Approach: "I hope we play with 11 players. I'm not joking. Against Barça, the team was very compact and worked together, and tomorrow will be the same. I'm not saying Barça are Bayern, but the philosophy is the same. We need to work hard and be compact in defence. We need to control the play to show our quality. We're not going to play to stop the other team playing; we'll try to play our own game."
Clarification of Cristiano situation: "He has had an injury, he has had treatment. He had a consultation with the club doctors, he underwent rehabilitation, he has been training for three days and has trained with the group for the last two days. He feels good, we feel positive and tomorrow he'll have a test. If he's OK, he'll play. If there are risks of a recurrence, he won't play. It's that simple."
Would it be a failure if Madrid went out in the semi-finals? "Failure is such an ugly word. I can't say that getting to the semi-finals is a success. The target in this competition is to get to the final. We're not in the final yet. We have to fight for 180 minutes against a strong team. A semi-final isn't a success, but I think that four consecutive semis is not bad."
Development of team: "With time, we have improved our play, our quality. The chance to win La Décima this year is a source of motivation. We're up for it, we're enthusiastic and we'll do everything we can tomorrow."
'Bestia negra': "They may be Real Madrid's bête noire, but they aren't mine. But that doesn't make me more confident. What gives me confidence is the players I have, so tomorrow I think we can see a good Real Madrid."
Bale: "He had some problems at the beginning, but after that he was more comfortable, he started to train, and now his season is really good, he's scoring goals. He's going to improve next season, he's lucky that he won't be playing in the World Cup."
Two different semi-finals: "I think they're two very interesting semis, very different because the teams have different styles of play. Chelsea and Atleti have different qualities to Real Madrid and Bayern, but football is football, so I think they'll be two fantastic matches."
Atlético-Chelsea war: "I don't think it's a war. Today it'll be a great show, and tomorrow will be a great show."
If Cristiano plays, someone will have to make way – and Isco is the likely candidate: "Taking one player out is not easy, because everyone's working fantastically well. Isco has worked well and has shown in recent games that he can be a very important player both in attack and defence. But we also have to think that Cristiano's presence gives us more options on the bench. The squad knows that what's most important is that every minute could be the decisive minute. Casemiro has hardly played, but when he came on [during the quarter-final second leg] against Borussia Dortmund he was very important."
Marcelo or Fabio Coentrao: "Coentrao will start."