DORTMUND - REAL MADRID
"Cristiano and I think the same: he should always play"
Carlo Ancelotti spoke to the press before the Champions League return leg against Dortmund, with Madrid having won the first leg 3-0.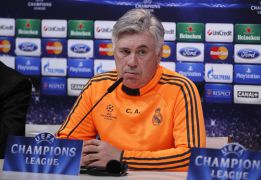 Real Madrid coach Carlo Ancelotti spoke to the journalists before tomorrow's Champions League quarter-final match.
How will Lewandowski change Dortmund?
He makes a big difference. He's a top quality striker and reference point for his team. His presence makes Dortmund more potent.
Will Cristiano start?
He's had treatment, yesterday he had a low intensity work out. Let's see how today's session goes. The player is ok, he's comfortable, with no pain. We'll take the decision today. If he's 100% he'll play and if not he won't.
Have Madrid learnt a lesson from this injury?
He's played every game he's played because he felt fine. We've never taken a risk with him or any of the other players.
Is it difficult for a coach to tell Cristiano to stop, or is it in fact impossible?
It's not hard. In my opinion he should play every game, so we have the same idea. The problem is that when he feels fine he wants to play. He's very professional. He knows his body well. If he's not ok he'll tell you, no bother, and that's how it was against Real Sociedad.
How have you motivated the players? Will you change the system?
You don't need to motivate the players with this result in the quarter-finals. There's no greater motivation than reaching the semis. We won't change the set-up. Dortmund have 90 minutes to score four and we have 90 to score one. That's the plan, and the sooner we get it, the sooner the tie is over.
Three straight wins after the defeats to Barcelona and Sevilla. Are Madrid back?
I think so, and I think we can finish the season in peak form. The two defeats were very costly for us, but the team reacted well and they are in good physical and mental condition to finish the season well.
Could this game turn into a nightmare? Going through is expected and going out would be a disaster.
A coach doesn't think about that sort of thing, just playing as well as possible. We're here to do the same as the first leg.
How are Bale and Cristiano? Could Varane play?
Bale's recovered from the knock to his knee. He's fine to play. As to the defence, it'll be Pepe and Ramos. And Coentrao will play. Maybe we've given away too much information (laughter).
The team have scored for 22 games on the trot away from home. Will the balance between attack and defence be vital?
No doubt, but the idea we have on the pitch is always the same: to play attacking football because we've got so much talent up front. That said, when we need to defend we need to do it together.