LIGA BBVA | REAL SOCIEDAD -REAL MADRID
Arrasate: "Madrid don't need to play well to beat you"
Real Sociedad's coach is aware of how important tomorrow's clash is for the visitors: "Gaining a draw would be alike a defeat for them," he said today.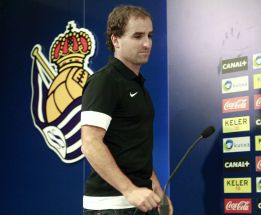 Real Sociedad coach Jagoba Arrasate faced the press in today's press conference, as his side prepare to take on Real Madrid at Anoeta on Saturday night. The coach confirmed that Xabi Prieto, who picked up an ankle injury in training on Thursday morning, is ruled out for the game.
Granero's return: "That Esteban Granero is available again is great news – he has been given the all-clear by the medical team, he's fine and he's raring to go but we will see what happens from now as it's not easy to enter into the team at this moment and especially tomorrow in what will be a very intense and high-tempo match".
Cristiano: "I would prefer it if Cristiano didn't play but I'm sure he will because he's the kind of player who always wants to play (Later, Madrid coach Carlo Ancelotti confirmed that Cristiano would not make the trip to San Sebastián). We've been working on the principle that he will play. Of course, it's much better if he doesn't take part because he's the maximum goal scorer in the league and you only need to look at his figures in terms of shots on target and goals which are unbelievable. If in the end he doesn't play, it won't make things any easier for us because Madrid have many other great players".
Real Madrid in need of all three points: "We'll be up against a side for whom a draw won't be enough – a strong opponent who will be going out for all three points. We're confident that we can hold our own against them and if we play at our level, we can give them a good run for their money although to be fair, we have struggled to put away our chances in recent outings".
Efficiency in front of goal: "This is the kind of game you can play well and end up losing. That's why it's important to know exactly what gameplan you're going to adopt, above all it's a game where you know you cannot concede and have to be clinical in attack because if you let Madrid off the hook, you'll be made to pay".
Not a question of simply 'parking the bus': "I can understand that a draw for Madrid would be like a defeat, and Madrid isn't a side which likes to maintain possession of the ball like Barça, the mount sporadic attacks, they hit you suddenly on the break and we know that we will have to defend a lot and well. But if we want to win this game, we can't just sit back and defend, we have to be bold and attack them. It might be to our favour if Madrid open up and leave us spaces but even if they do, we have to remember that they are still a very good team".
New-look Madrid: "They're nothing like the team who we met last season. They are fast, direct and lethal on the break and also in terms of their positional play".
Madrid's gripes with refereeing: "We've got enough to think about as it is with thinking about how to stop Madrid never mind the referee. I'm sure the ref will have a good game tomorrow".
A game which La Real need to win: "We're not in the position to be able to afford to slip up in any game between now and the end of the season. Our objective is to finish as high up the table as we can. A win against Madrid would give us a boost in terms of self-confidence and maybe that is just what we need to confront our remaining matches.