FC BARCELONA
"It's an attack on a model which has been in use for 35 years"
"We have not breached Article 19. We have not veered from the regulations. When we were told that they were ineligible to play, they didn't play".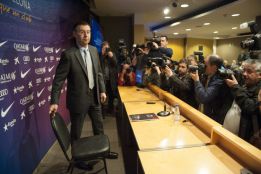 Barcelona President Josep María Bartomeu called a press conference this afternoon – primarily to discuss the proposed re-modelling of Camp Nou but the main talking point was the one-year transfer ban which FIFA has dealt the Catalan club for violating rules regarding the transfer of minors. After reading out a timeline of all of the correspondence from FIFA, Bartomeu revealed that the Barcelona only received the final notice from world football's organizing body on Tuesday when the decision had been made by the Disciplinary Committee on 28 November. The President also defended Barça's youth academy, La Masía: "It's very strange when they hold a meeting, make such an aggressive and abusive decision then send us a communiqué four months later. You are welcome to interpret that as you wish.
"I would like to make it clear that Barça are in total agreement with FIFA's rules regarding the protection of minors. There are unscrupulous people in this world who use minors for people-trafficking; here at Barça, you will always find a club which defends the values of education. Barcelona is a club which has a youth academy, La Masía, our club prides itself on excellence and our youth academy is an example of that. Our President Sandro Rosell wrote to FIFA's secretary requesting that a number of players should be exempt from the provision so that they could continue their education at Barcelona. During the Club World Cup and FOOT Expo-Forum, I personally explained the merits of our youth academy, citing La Masía as a world reference in academic education and football training.
"I would like to say to our club members and to the parents of those involved that we are infuriated by this decision which penalizes a model which has been functioning for 35 years and penalizes the essence of our club – a model which has been praised by FIFA. Xavi, Iniesta, Messi... We take great care of our young players and are concerned about their education – one which they might not have the chance to receive in their own counties," he continued.
"Our youth academy comprises 230 children from 18 different countries. Of those children, 40 are not Spanish natives – and 18 of those are resident at La Masía. As of today, we have 80 players living in residence at La Masía.
"We are not prepared to forgo our educational model and we will defend all of the minors on our books. The message we want to transmit is that La Masía cannot be touched," Bartomeu insisted.