ATLÉTICO MADRID | DIEGO COSTA
Diego Costa escapes tear and says he'll be ready for everything
The Brazilian underwent tests to ascertain the extent of his injury and said subsequently, "I'll be fit". Before the tests he had been pessimistic: "I won't make it".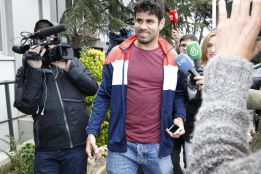 Atlético Madrid have been handed a fitness boost with the news that Diego Costa did not suffer a tear to his hamstring during Tuesday's Champions League match against Barcelona.
The club took to its Twitter account on Wednesday afternoon to confirm that the Spain international has suffered "a grade I muscle injury in the semitendinosus muscle on the back of the left thigh (no tear)," and that the problem is "pending further developments".
The forward's involvement in the second leg of Atlético's quarter-final tie against Barça remains uncertain, and the player expressed his pessimism at his recovery chances earlier in the day. "The second leg? I won't make it," he told the attending media.
As he arrived at the Clínica Fremap in Majadahonda for tests to ascertain the extent of his injury, he insisted that he would be confined to the Vicente Calderón stands for the clash on 9 April. "The team looks very good to me and I'm in good spirits," he said.
However after undergoing the tests and speaking to the doctors he changed his opinion completely. Smiling he said he would be "fit for everything" and that he was already "much better than yesterday".