BARCELONA | KEEPING CRISIS
Barça looking to sign a keeper as soon as possible
The club are scouting the market urgently, but also looking within the lower teams. Pinto has still not renewed his contract for next season and has been suffering back pains for some time.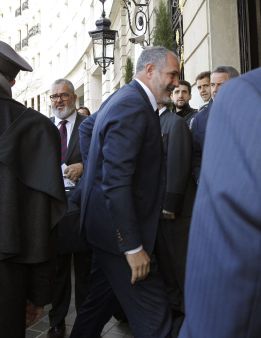 These are difficult days for 'Barcelonismo'. In spite of the two wins this week (the Clásico last Sunday, 3-4, and against Celta on Wednesday, 3-0), there are few smiles around the Camp Nou. The injury to Valdés has affected the whole team and, from what AS has learnt, club president Bartomeu and sporting boss Jordi Mestre are planning to meet in the coming days with first team coach Martino and Zubizarreta to analyse the need to sign a goalkeeper.
In principle the club trusts in the reserve keepers, Oier and Masip, but accept that some more experience could be useful for the group that have based so much of their success on the abilities of Victor Valdés.
Pinto, the current first team goalkeeper with Valdés out, still hasn't renewed his contract for next season. He has been suffering from back problems for some time, and has missed several call ups because of the issue. Moreover, against Celta he banged his knee against his own post, and while the incident came to nothing it was a reminder of the position Barcelona would be in if he does get injured.
According to Spanish league rules Barcelona could sign a keeper right now, given that Valdés has suffered a 'long-term injury', being out for more than five months. This goalkeeper would have to come from the Spanish first or second division, or be without a contract. The problem Barcelona face there is that there are no quality goalkeepers actually available, with every single first choice keeper involved in important matches for their clubs in the run-in.
According to various sources Borussia Monchengladbach goalkeeper Marc-André Ter Stegen has already signed a contract to join Barcelona and will be heading Catalonia-wards in June.