REAL MADRID | DIEGO LÓPEZ
Diego López: six goals conceded from last nine shots on goal
The debate over who should be in goal for Real Madrid is up and running again after the club's two consecutive league defeats.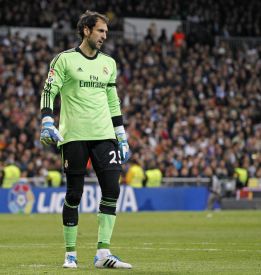 The performance of Diego López in Real Madrid's league defeats to Barcelona (3-4) and Sevilla (2-1) have reopened the debate over who should be in goal for the club in the league games. Both the fans and the press are asking whether Iker Casillas should be reinstated as the out and out number one for Madrid.
After the defeat last night in Seville, our resident stat-man Mr Chip pointed out that from the last nine shots on Real Madrid's goal, taken by Barcelona and Sevilla, six ended up in the back of the net and one hit the post (taking the post as part of the goal). This means that Diego López only made two saves in the two games, just a 22% success rate.
That said in the Barcelona match two of those goals were penalties and both were well taken by Messi. Of the other two the shot from Iniesta for Barça's first was virtually unstoppable; the only goal where Diego López might have done better was for the first Messi goal, though the keeper might well have been surprised the defence let Messi through as they did.The majority of the doubts appear to be focused on his performance in the Sevilla game. He failed to come out to Bacca which might have prevented the first goal for Sevilla, and could probably have done more in the second as well.
In an internet survey run by AS.com 85% of the voters felt that Casillas should take over the goalkeeping duties for the league games from Diego López. Over 28,000 voted for Iker, compared to just 4,700 who went with the current choice for the league games.
On 20 August in a similar poll the results were much more even, 59% preferring Casillas to 41% for Diego López.