LIGA BBVA | SEVILLA - REAL MADRID
Ancelotti: "Cristiano and Sergio Ramos didn't disrespect anyone"
Ahead of Wednesday's match against Sevilla, the Italian said: "We've lodged an appeal for Ramos' red card to be rescinded, because we think it's unfair."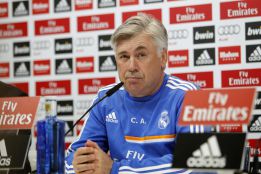 Carlo Ancelotti faced the media on Tuesday and reflected on Real Madrid's Clásico defeat to Barcelona at the weekend. The Italian also looked ahead to his side's crucial Liga BBVA match against Sevilla at the Estadio Sánchez Pizjuán (Wednesday, 22:00 CET).
Barça: "We have to forget about the game. Today we trained well, with a good atmosphere and I think we'll have the right atmosphere to try to win tomorrow in Seville."
Was referee Alberto Undiano Mallenco's display to Real Madrid's detriment? "I think so. As I said at the end of the game, we didn't get any luck, above all with the Ramos incident. So we've lodged an appeal to see if that card can be rescinded, because we think it's an unfair card. We're waiting for the committee's decision."
Replacement for suspended Ángel Di Maria: "We can replace him with [Asier] Illarramendi or with Isco. I'll make that decision tomorrow."
Karim Benzema substitution against Barça: "I've spoken to him. He played a fantastic game and there was no problem. He understood perfectly why I made the change."
Reasons for defeat to Barça and importance of refereeing decisions: "I think it isn't a problem in which to look to to apportion responsibility or find someone to blame for the defeat. This defeat came after many games without losing. That's football and you can't always explain everything by looking for someone to blame. This team was in good shape before this defeat and it will be after. We're level on points with Atlético Madrid and we have one more than Barça. Tomorrow's game is an important match for us to produce a positive reaction."
Cristiano and Sergio Ramos comments: "I think in this sense Cristiano and Sergio Ramos haven't disrespected anyone. They expressed an opinion that I understand. I have always thought that, unfortunately, referees make mistakes in every game."
Remaining fixtures: "We don't think about the fixture list, we focus on each game. We think that every game can be crucial, for everyone. It's a very exciting league because of this, because every game is difficult. We've seen a lot of surprises in La Liga this season."
Preferred referee in the Copa del Rey final: "No, it isn't down to me to talk about that. There's a committee that thinks about that. It isn't down to me to talk about that."
One point from 12 against main rivals: "It's clear that I'm not happy about that, because we have a very competitive team. But I think the table doesn't lie and we're still at the top of the league. It's hard to explain why this happens; I think we're very competitive, Real Madrid are one of the best teams in the world and we're going to show that until the end of the season."
Karim Benzema substitution against Barça: "I've spoken to him. He played a fantastic game and there was no problem. He understood perfectly why I made the change."
Reasons for defeat to Barça and importance of refereeing decisions: "I think it isn't a problem in which to try to apportion responsibility or find someone to blame for the defeat. This defeat came after a lot of games without losing. That's football and you can't always explain everything by looking for someone to blame. This team was good shape before this defeat and it will be after. We're level on points with Atlético Madrid and we have one more than Barça. Tomorrow's game is an important match for us to produce a positive reaction."
Cristiano and Sergio Ramos comments: "I think in this sense Cristiano and Sergio Ramos didn't disrespect anyone. They expressed an opinion that I understand. I have always thought that, unfortunately, referees make mistakes in every game."
Remaining fixtures: "We don't think about the fixture list, we focus on each game. We think that every game can be crucial, for everyone. It's a very exciting league because of this, because every game is difficult. We've seen a lot of surprises in La Liga this season."
Preferred referee in the Copa del Rey final: "No, it isn't down to me to talk about that. There's a committee that thinks about that. It isn't down to me to talk about that."
One point from 12 against main rivals: "It's clear that I'm not happy about that, because we have a very competitive team. But I think the table doesn't lie and we're still at the top of the league still. It's hard to explain why this happens. I think we're very competitive, Real Madrid are one of the best teams in the world and we're going to show that until the end of the season."
Are you thinking about Ramos as an option at right-back? "It could be a solution, only if Dani Carvajal has problems. We have the solution of Sergio Ramos and Nacho in this position."
Motivation after defeat: "We have to forget about it, and keep in mind that we have a good opportunity to produce a positive reaction, and that's all. It's more important to think about the game we're going to play than the one we played. And I think we played well; we made small mistakes and we paid for them. But our mentality was good. We went out with the mindset of winning the game, but we didn't manage it. We're not happy."
Would you prefer Undiano Mallenco not to referee any more Madrid games? "It isn't down to me to talk about that. I have no problem with him taking charge of more of our games."
Sergio Busquets stamp: "All I think is: if it had been the other way round, I don't know what would happen."
Complaint against Busquets: "Real Madrid aren't going to lodge a complaint, because this club doesn't usually do that. I've only given a personal opinion. If it had been the other way round, I don't know what would have happened."
Have Madrid analysed what they did wrong against Barça? "Of course, as always. To improve, you have to look at what happened, at the mistakes we made. It was small details that cost us the match, but in general we played well."
Sevilla: "Sevilla are in good form, they won the derby [against Real Betis in the Europa League] and are full of confidence. We're aware that the game is very important for us. "
Why have Madrid fallen short against their big rivals? "I think we only didn't compete well against Atlético at home, when we had problems and deserved to lose, and in one half against Barcelona. But in the last two games, against Atleti away and [on Sunday] against Barça, it was very even. It's hard to explain, but I think you have to be objective. We didn't compete, but the games after were very even."