LIGA BBVA | REAL MADRID 3-4 BARCELONA
Referees' Committee reports Ramos and CR7 over comments
The Spanish Football Federation has confirmed that the RFEF's Competition Committee is to look into the pair's criticism of Alberto Undiano Mallenco.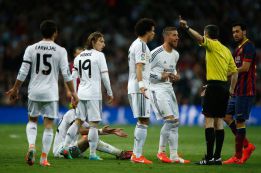 Spain's Referees' Committee (CTA) has reported Sergio Ramos and Cristiano Ronaldo to the Spanish Football Federation (RFEF) Competition Committee after their criticism of Clásico referee Alberto Undiano Mallenco.
AS has received confirmation from RFEF sources of the CTA's decision to send the pair's comments to the Competition Committee, with a view to the panel – which is formed by Francisco Rubio, Lucas Osorio and Pablo Mayor and normally meets on Wednesdays – deciding whether the comments made by the Madrid players are worthy of punishment.
Undiano Mallenco awarded three penalties during Barcelona's 4-3 win at the Santiago Bernabéu on Sunday – two for the visitors and one for Real Madrid – and showed Ramos a straight red card on 64 minutes after deeming that he had fouled Neymar in the penalty area.
Almost all previous cases point to financial sanctions. In 2010, then Barcelona coach Pep Guardiola paid a 1,500-euro fine (reduced from 15,000 euros by the Spanish Disciplinary Committee for Sports) for his criticism of referee Carlos Clos Gómez, while Blaugrana defender Gerard Piqué escaped punishment in 2012 after saying that Carlos Velasco Carballo's decision to send him off against Sporting Gijón was "premeditated". In 2013, Real Madrid's Ángel Di María was fined 1,500 euros for commenting: "There are some refereeing mistakes that aren't mistakes." There are no recent cases of players receiving suspensions for making comments against referees.
Speaking after the Clásico, Cristiano said of Undiano Mallenco: "He was pale, very nervous. A referee has to be relaxed in order to do as well as possible. It makes me think that matches are not only won on the pitch. Maybe they don't want us to win the league. Since I've been at Madrid we've never benefited from refereeing."
Meanwhile, Sergio Ramos said: "It was a very tense Clásico. There are no excuses. We have always had this type of game where there is only one protagonist. For the good of Real Madrid and of football, let's hope Undiano does not officiate another of our games this season."