LIGA BBVA | REAL MADRID 3-4 BARCELONA
Title race on a knife-edge after Barça win dramatic Clásico
Barcelona did exactly what they had to do in the Bernabéu, beating Real Madrid to put Atleti top and close their own gap to one point.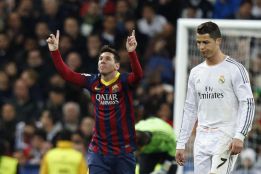 A thousand matches in one. This Clásico encompassed several life-times, from glorious triumphs to the depths of despair, from weddings to funerals. There were goals, seven in total, and refereeing controversies, with three penalties awarded, all of them debatable. Barcelona won to show they are still alive, shut several of us up and make the league deliciously tight. Messi scored a hat-trick to stake the case for the return of the Ballon d'Or. And Atlético are back at the top of the league.
Let's go back a long, long way in time. To the start of the match, where Barcelona won the early rounds. Madrid pressed high up the pitch and invaded Barcelona's territory with the sole aim of preventing Barcelona starting their slow, hypnotic passing game. Martino's players jumped the barrier just like old times, as if they enjoyed a stroll along the cliff's edge. And once past that, Barcelona's midfield life was far more relaxed, as the rest of Madrid sat back and waited in their own half.
After six minutes, thanks to their domination, Barça scored. Messi did enough to unbalance Madrid's defensive system, penetrating through the middle and forcing Carvajal to run to help and from behind the Madrid defender came Iniesta. His left-footer made Diego López invisible. For someone who's scored in a World Cup final all the other goals are like sticking stamps on an envelope.
Messi was close to getting the second, on his own in a great position, but something incredible happened: he fluffed with his left foot. We've never felt so similar to him. Neymar also squandered a good chance just after. His was even more painful because he was slow and clumsy, almost absent. As he was all game, including his minor moment of glory, on the Ramos penalty. Not even that was enough to overcome the disappointment. It makes you want to forget Neymar and call him simply 'Junior', like simple children of clever parents.
But instead of 0-3 the game was suddenly level. Football is like that. Di María had given Barcelona a warning just before, but this time there was a difference, Benzema didn't miss. Valdés got a hand to the header, but just to torture him, as the ball hit the post and still ended up in the back of the net. By the way, Mascherano should complain about anyone who insists he plays as a central defender. He's not made for the job, he doesn't have the body, or the stature.
The four minutes after deserve a slightly more detailed summary. After his assist Di María slumped to the ground, having very strangely fainted, breathless for the first time in his life. He was even attended to by the doctors. I don't know if they gave him smelling salts, or steak and chips, but when he came back on four minutes later it wasn't to work his way back into the game, but to repeat his assist. Mascherano made another mistake and Benzema scored with class: control on the thigh and smash the ball into the net.
Barça were getting tired. Their possession began to be useless and we began to remember their inability to open a parcel, scratching ineffectively at the wrapping. Messi saved the team when they looked down and sinking to the bottom of the pool. He did everything, wrote the script and prepared the scenery. He even used Neymar as if he was a seat, or other absurd object in the middle of a meadow. With everyone distracted Messi scored with his left and Barcelona got back into it.
In the second half the pace increased, or maybe just our blood pressure did. Valdés prevented Benzema's third but his happiness didn't last long, with referee Undiano giving Cristiano a penalty for a foul by Alves outside the area. The Portuguese converted.
Once again Barcelona were facing a bigger mountain having come so close to what they thought was the summit. And once again Messi came to the rescue. His pass, out with the known limits of geometry, put Neymar through on Diego López. It remains to be seen if Ramos touched him or blew on him. We'll never know if Neymar would have scored or gone to sleep on the ball. Messi scored from the spot and levelled the game.
The final goal came from another penalty. Iniesta dribbled into the box with the intention of being brought down and with that aim in mind got in between Xabi and Carvajal, as if their legs were thorn bushes. Undiano, once again, gave the penalty enthusiastically, as if he was discovering America. Messi scored in the same place as always.
Madrid had no breath left for a reaction. Barcelona meanwhile learned that there's no better motivation than spite, nothing that inspires more than feeling abandoned by one who loved you. The crisis lots of us had diagnosed isn't bad enough to deny them victory over Madrid at the Bernabéu. Let's see what they do with the points: keep them or gift them to Atleti.