CHELSEA
"Atlético's success is all the sweeter" - Torres
Fernando Torres turns 30 today. The Spain forward sat down to chat with AS about his career so far at Chelsea's Cobham training ground.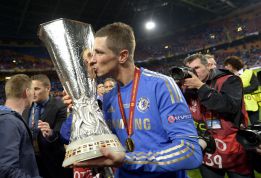 Fernando Torres turns 30 today. "The whole 'El Niño' thing is more and more a thing of the past," the Spain forward begins by telling AS at Chelsea's Cobham training ground. The Madrid-born player aims to keep on winning trophies at Chelsea, remains a close follower of Atleti and dreams of playing at the World Cup in Brazil.
Do you still remember your Atlético trial at the Parque de las Cruces in Madrid?
"Yes, of course. I remember being very nervous and seeing a lot of very nervous kids. I remember the coach, Víctor Peligros, and Manolo Briñas, who were giving out the line-ups and handing out the bibs. They told us: you've got a football pitch and 15 minutes, and we'll tell you if you're good enough or not. In life, that's what trials are like, they're moments."
And they gave you 10 out of 10 in everything, even the odd 12?
"That's because Manolo Briñas liked me from that day on. I have very clear memories of everything I've done, of all the first times, of all my first days in football. I have them in my head and they'll always be there."
What's left of the young kid who won the Nike Cup in Reggio Emilia in 1999?
"What's left are the values and the things I learned throughout my whole time in the Atlético youth set-up. In the end, that's the basis for what you're going to become. When you're a kid, you play with your friends and the only thing you want is to be passed the ball and to enjoy yourself. When you're a kid, winning takes a back seat. When you're older, that's when you have to win to enjoy yourself."
You suffered a knee injury at 16, months before your professional debut. Did that help you to mature?
"At that time, I was already getting some attention in the press and people were saying that I was a big youth product. I didn't see myself like that. I kept playing football because I was part of a team and I was a starter; even at that stage, if they had told me I wasn't going to play I would have gone back to playing with Rayo 13 in Fuenlabrada. I didn't have that ambition. Being a footballer wasn't a priority in my life; I played because I enjoyed myself. The injury was another test that had to be got through. When you're injured, you have to learn to walk, learn to use your muscles again, learn to run, to sprint, you have to build up muscle. Once I was ready to train, I wanted to play right away. Now I understand that it was a process and so it was what was needed.
Was your first-team debut for Atleti hastened to take the heat off the team's failure to get promoted, to give the fans something to shout about?
"Yes, maybe. We've seen another similar example in Oliver Torres, a huge talent who is coming through at a team that's being successful and it's much more difficult for him to play. The circumstances certainly allowed me to make my debut more quickly, and what helped me to take it in my stride and not let the pressure eat me up was the atmosphere that I had both at home and in the dressing room. I wasn't aware of whether they were picking me to take the pressure off. I would finish training, my father would pick me up, because when I was 17 I didn't have my driving licence yet, and he would take me home, to school and then the same the next day. I became aware of all this much later on."
Do you remember your feelings when you scored your first Atlético goal against Albacete?
"I was in the right place at the right time, I got my head on it and it hit the post and went in. It was a huge turning point for me; maybe if I hadn't scored that goal, I would have started the following season in the second team – who knows."
Are your aware that you made a lot of kids become Atleti fans and, thanks to you, the supporters didn't lose hope even in the most difficult times?
"I really like it when their parents tell me that, and when a lot of those kids – who aren't kids anymore – say to me: 'I became an Atleti fan because of you.' When I became an Atleti fan, I looked at their players. I looked at Kiko, [Milinko] Pantic, [Diego] Simeone… And you end up liking a player and you follow him, and automatically follow his team too. I followed the team first, but there are a lot of people who follow players and, wherever they go, they're fans of the team they play for."
What made you celebrate the European Championships and the World Cup with the Atlético badge? Didn't that anger Liverpool, your team at the time?
"Liverpool knew it from the day I signed to the day I said goodbye: Atleti will always be in my heart, and that's the way it will always be. I'll fight for whatever team I'm at above Atleti, because that's who I have a duty towards, but you can't change your feelings. Nowadays, Atleti don't need anyone to stake their claim for them; there's no need to put the Atleti badge out there anywhere, because they're doing that for themselves. At the time, they were difficult years, and there were Barcelona and Real Madrid badges and shirts from Andalusia and Catalonia, so why couldn't the Atlético badge be there if we were in Madrid and there were a lot of Atlético shirts and a lot of fans who see me as one of them. In fact, it was a lad who was an Atleti fan who threw me the scarf…"
What has your experience been of the success Atlético have had since 2010, winning five trophies?
"I'm proud of the job Atlético have done. It seems like it's only been in recent years, but it's a job that goes way back, even before I came into the first team. You need money to compete, and after being put under judicial administration [following the ousting of club president Jesús Gil and his board in 1999/2000] Atlético were in a very awkward situation and were too far behind their rivals to compete, and it has taken a long time. You have to add that to the really good work that has been done on a sporting level in recent years, and since 'El Cholo' [current coach Diego Simeone] arrived there has been a leap forward in quality. I'm really proud of what they're doing."
Did you ever imagine seeing Atlético compete with Madrid and Barça?
"No, I didn't expect that yet. It takes a huge amount of work, a lot more than the others, to make up for that economic imbalance, and through hard work they're doing it. Atlético's success is all the sweeter."
You've never ruled out a return to the club. Could it really happen, or is it the stuff of dreams?
"In football, you never know. You don't know where you're going to be tomorrow, in a week's time or in ten years' time. How can I answer that question!"
Would you like to be coached by Simeone?
"I've had a lot of admiration for 'El Cholo' ever since we were team-mates. He helped me a lot. He taught me how to be a captain; he taught me a lot in the seasons we played together at Atleti. I always want to work with people I admire. I admired Rafa Benítez from the outside, and I had the chance to work with him. The same goes for José Mourinho or Luis Aragonés. I've been lucky enough to work with people who, when you saw them from the outside, you said: 'What have they got, what's their secret, why do all the teams they coach work well…?' Simeone is like [Pep] Guardiola or like other coaches, who you'd like to go and see how they coach and learn."
You've got two years left on your contract at Chelsea; do you think about returning to the Calderón?
"You never know where life is going to take you. There's nothing to say I'd end up with Simeone here or at Atleti. Who could have told me that I was going to coincide with Rafa Benítez at two different English clubs?"
Your time at Liverpool was a huge success; what are your memories of Anfield?
"I played there for three and a half years and I was made to feel right at home, like at the Calderón. The support the fans gave me was tremendous, and gave me tremendous confidence and self-assurance when I went out to play."
You were adored by the Liverpool fans. Do you think that they now understand your departure?
"No, because everything they've heard is the version that some people at the club have given to the media and have spread among the supporters. They've made it out to be something, which isn't the truth. I'm sure it isn't easy to understand why a player leaves, but I focus on the thousands of letters that I receive here in London, from Liverpool fans thanking me and telling me that they follow me now, even though I'm at another club. When we went to play at Anfield last year, a man of more than 70 years old came to the hotel, almost in tears, and thanked me and wished me the best. There'll be all sorts of opinions, but the Liverpool fans I've come across have had words of affection for me."
You left to win trophies, and that's what you've done. Has your time at Chelsea lived up to expectations?
"In two and a half seasons, I've won a Champions League, an FA Cup and a Europa League, and I still have years remaining at Chelsea in which to keep on winning more trophies."
Have you felt the pressure of being the most expensive signing in Premier League history?
"No. You can't let that affect you. [But] it does affect how people react to how you perform. If a club pays 50 million pounds for you, certain things are expected of you and, if things go badly, the criticism is much heavier and the reactions are much more extreme. If things go well, that's seen as normal, because you're expected to score. The Chelsea fans understand that completely…"
With their chant of, 'He scores when he wants…'
"They've supported me from day one. I'd already seen that when I played there as a rival player – when a player most needs the support of the fans, they're there. I've seen that with [Frank] Lampard, with [John] Terry or with [Ashley] Cole: when they've had problems, these supporters have given them a lot of confidence."
What is Roman Abramovich like? Is he a visible presence?
"Yes, he comes here from time to time, and he's a very approachable person."
Have you had personal contact with him?
"Like everyone, the contact that an owner has with a player, just what you'd expect."
What is Mourinho like?
"He's a normal person; he's hard-working and he likes to keep the idea of the team above anything else. If he keeps winning trophies wherever he goes, there's a reason for that."
And he doesn't have anything against the Spaniards?
"No. He and his team have good memories of Spain, of their time at Real Madrid. The numbers, his records and everything he did there is there to see. Of course he doesn't have anything against the Spaniards."
And Carlo Ancelotti is doing a good job at Real Madrid. You worked under him at Chelsea; what kind of coach is he?
"Carlo is very much a Real Madrid coach. When I met him, I thought that he'd do well there. Ancelotti was a player, he knows what it's like to be a player, how to deal with them, how to give confidence to his key men and, above all, he's a very calm, open person. He isn't going to be affected by the pressure and he's doing a great job. He's a great coach and the results are there to see. Going to Madrid isn't easy."
And Rafa Benítez? How important has he been for you?
"Rafa was a turning point in my career. I went from being a player who plays football to being a player who begins to understand football and begins to apply the best things he has for the good of the team. Rafa taught me to think about football, not just to play."
You've been capped 106 times by Spain, scoring 36 goals. In 2001, you won the Under-16 European Championships and scored in the final. In 2002, you won the Under-19 European Championships and scored in the final. In 2008, you won the senior European Championships and scored in the final. In 2010, you won the World Cup. In 2012, you won the European Championships, scored in the final and finished top scorer in the competition. You've always done well for Spain at tournaments…
"At every level, I've been lucky enough to win tournaments, be part of the team and play a central role. The national team is really special for me. Being called up by Spain, whether it's the first cap or the 107th, has always been a thrill."
Do you see yourself going to the World Cup?
"In football, you never know where you'll be in a month's time. I'm going to work hard; that's the only thing I know how to do and this final phase of the season is very important. The World Cup is around the corner, and the players who come into it in the best shape are the ones who will go."
You weren't in the last squad before Euro 2012 or the Confederations Cup either, but you ended up going and being top scorer…
"I have to keep on working. My numbers are there to see. The World Cup isn't just any old tournament: the people who are in the best shape are the ones who have to go, and that's what the national coach, who names the squad, is there for. I hope that this final phase of the season goes well for my team. We're in there in the league and in the next round in the Champions League; it could be a great end of season. The more important games you play and the more you fight to win things, the higher the demands are and that's when I've performed the best."
Do you remember when former Spain coach Luis Aragonés used to tell you in his legendary team-talks that he got goose bumps when he pulled on the red shirt? Did the meaning of 'La Roja' get through to the group?
"It got through to us, because at that time we didn't see it like that. Being picked for the national team was a form of recognition, but it seemed more like individual recognition: I'm doing well for my club, I get called up for the national team and that's the pinnacle: being called up for the national team, playing with the best players in Spain – the results take a back seat. Luis took it to the next step and told us, 'This is only the beginning: you're here because you've earned it, but you have to go out to win when you pull on the Spain shirt.'"
Do you get goose-bumps when you line up on the pitch and the Spanish national anthem plays?
"Of course I do! But now it's very different: now there is a greater level of responsibility, because now we've won things and everything we do from now on is so as to make history, because no one has done it before. There is an extra burden of responsibility and pressure that wasn't there before, because before we were fighting against the past, against the statistics. We wanted to be the first to do it, and we did. We have to go back to that way of seeing things and the excitement that we felt when we were about to achieve things. When you've achieved everything, it isn't easy."
Will Aragonés' way of motivating the team be remembered during the 2014 World Cup?
"It already was in 2010, when he came out with 'criticism' of the team and it gave the team a wake-up call. I'm sure that Luis will be with us at the World Cup."
Did it hurt not to be at the tribute paid to Aragonés at the Calderón?
"He more than deserves the tribute that was paid to him; there isn't enough that can be done for Luis. It hurt not to be with the national team."
As if you didn't have enough to think about already, you've also gone into business – you're going to open two gyms.
"Sport has given me a lot. This is only a small contribution that we're going to begin with; there's much more to come. We have to take things slowly and do things right. We have to try to generate employment."
Is it difficult to set up a business in Spain?
"It's very difficult. The people who make the decisions on licences and everything else are in another era; it's a slow process and it's a shame. We have a load of projects that haven't moved forward for months because we need a piece of paper to begin construction, a piece of paper to open. A lot of people can't earn money from doing their job. I think it's unbelievable. In a few days' time, we'll be up and running and we hope to live up to what we've promised people. We have more than 1,000 members before opening. The response has been better than we expected and now we have to do more. We'll be springing more surprises, more work and more opportunities to do sport."